In part two of our guide to manufacturing locations in Mexico, we explore the region driving the automotive manufacturing industry forward, and discuss how shelter services in Saltillo, Coahuila can make setting up a manufacturing presence in Mexico a breeze.
Quick facts about manufacturing in Saltillo
The heart of the booming automotive sector in Mexico, Saltillo is known for its high concentration of auto companies. Firmly rooted as a cluster with the likes of Chrysler and General Motors, companies flock to Saltillo given its culture of automotive manufacturing excellence. For companies looking to establish auto production in Mexico, look no further than Saltillo.
Population: 930,000
Distance to U.S. Border: 180 mi from McAllen, TX
Labor Market: Highly skilled – known for its intellectuals, professionals, and technically trained workforce
Infrastructure: Plan de Guadalupe Saltillo airport (regional with an international terminal), access to Gulf of Mexico seaports, national and international highway networks
Major Industries: Automotive
Learn more about manufacturing in Saltillo, Mexico.
How can shelter services make manufacturing in Saltillo easier?
Saltillo's reputation as a robust industrial center makes it a haven for competitive businesses looking to establish successful operations in the area. Given the complexities of the locale's landscape, new entrants often face unforeseen challenges in getting up and running. Alternatively, deciding to use shelter services in Saltillo allows companies to more easily navigate the industrial marketplace, become more effective in their production efforts, and more easily source the talent required to sustain profitable operations in the area.
Focusing on efficiency, scalability, and innovation in production is much easier when using shelter services in Saltillo. Exposure to administrative and regulatory risk is highly minimized, allowing for better strategic focus on the things that matter most.
What shelter services in Saltillo does Tetakawi offer?
Our cost-effective shelter services reduce the risks (financial, regulatory, and operational) many companies face when setting up new operations in Saltillo. We provide a comprehensive legal framework and act as the employer and manufacturer of record in Mexico. We'll handle all activities not related to production (including human resources, import and export, regulatory compliance, procurement, and others). Ultimately, you'll experience a shorter learning curve, enjoy more flexibility, improve your productivity, and reduce your costs.
Read more about available shelter services in Saltillo.
On-site support in Saltillo: the Zapa Manufacturing Community
In addition to specific shelter services, Tetakawi also operates several manufacturing communities throughout Mexico. What is a manufacturing community? It's more than just an industrial park – it offers a turnkey approach that includes a physical production location, support services, and extensive legal and regulatory framework. In Saltillo, we operate the Zapa Manufacturing Community, located in the heart of Saltillo. Zapa is complete with a full suite of infrastructure and amenities to support your business. If you choose to operate in a manufacturing community, you can:
Quickly set up a factory in Mexico in as few as 30 days
Employ your own manufacturing talent without all the risk
Manufacture in a scalable, secure, class A manufacturing space
Move your factory inputs and outputs seamlessly across the border
Comply with all government regulations without burdens and distractions
Leverage economies of scale to attain lower operating costs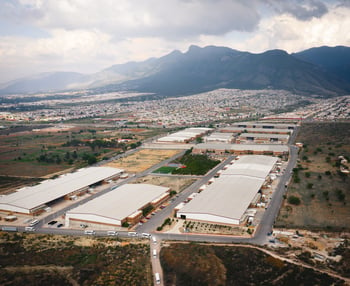 Learn more here about our Zapa Manufacturing Community in Saltillo, Mexico.
Where to go for more information on shelter services in Saltillo
To learn more about our Zapa manufacturing community or our shelter services in Saltillo, contact us to speak with an expert, get your questions answered, and begin manufacturing in Mexico.
Subscribe
Sign up and stay informed with tips, updates, and best practices for manufacturing in Mexico.