Industrial Regulations in Mexico: 6 Government Agencies to Know
Manufacturers often consider a launch into Mexico due to the incentives offered by the federal and state governments. However, these foreign investors must also recognize that Mexico's government agencies have strict industrial regulations in place to protect their workers and local environments. Knowing the primary Mexican governmental agencies that regulate manufacturing affairs may help make operational startup easier by giving manufacturers a hint of the regulations they'll need to meet.
There are six government agencies or ministries all foreign direct investors (FDI) manufacturing in Mexico should be aware of.
1. Ministry of Foreign Affairs
The Mexican Foreign Ministry explains its mission as strengthening the country's economic, political, cultural, and cooperative affairs with other countries. This Mexico government agency is largely responsible for maintaining diplomatic relations with countries that will foster offshoring within its borders. However, the department also oversees certain elements of the operation of foreign investors in Mexico.
For example, this department authorizes the establishment of companies in Mexico by FDIs. One of the first steps companies will need to take to launch is to register with this ministry, among other departments. In addition, corporations looking to acquire nonresidential real estate must register with the Ministry of Foreign Affairs.
2. Ministry of Labor and Social Welfare
This Ministry of Labor oversees labor regulations for the protection of workers, making this department particularly important for manufacturers coming into Mexico at the enticement of low-cost labor. It cites as its mission the strengthening of labor policy and ensuring labor rights by monitoring workplaces' compliance with labor regulations; asset recovery of minimum wages; and the strengthening of employment skills that improve the working conditions of workers and increase their quality of life.
The department is overseeing a nationwide labor reform rollout aimed at ensuring fair wages and union protection for all workers. In addition to setting labor regulations with which manufacturers must comply, this department also supports training initiatives. It connects workers and manufacturers with training opportunities that support workforce development and employment, making it a valuable ally in developing your skilled labor pools.
3. Ministry of Finance and Public Credit
The Ministry of Finance and Public Credit is responsible for issues related to finance and the economy surrounding manufacturing in Mexico. FDIs must register with the Federal Register of Taxpayers under this department as soon as they finish the process of registering their new company. This Mexico government agency also ensures compliance with income tax regulations and oversees the value-added tax (IVA) rebate process. Foreign investors submit receipts used to secure these rebates directly to the Finance Ministry on a monthly basis.
4. Ministry of Economy
The Ministry of Economy works to develop and implement policies aimed at stimulating national and foreign investment, and promoting the competitiveness of industrial sectors including manufacturing. It's a sprawling department that maintains control of 49 federal agencies around the country and seven trade agencies abroad. Most foreign investors will work with the department when registering with the IMMEX program.
This department is responsible for directing and coordinating issues related to the promotion of foreign trade, intellectual property, industrial and economic growth, and commerce regulation. Under this department, manufacturers will find government agencies including the National Commission for Regulatory Approval (CONAMER), which provides transparency and ensures compliance with regulations across all levels of government; the Mexican Institute of Industrial Property (IMPI), the national patent and trademarking body; and the Office of the Federal Prosecutor for the Consumer (PROFECO), the consumer protection agency.
Among many other activities, the department supports the establishment of standards governing the quality of a wide range of products, ensuring quality and encouraging competitiveness on a global stage. It is also responsible for ensuring trade activities within the country are legal and beneficial to the country's economic interests.
5. Ministry of the Environment and Natural Resources
The Ministry of Environment and Natural Resources (SEMARNAT) is responsible for upholding laws that protect, restore and conserve natural ecosystems in Mexico. This department lays out environmental policies and standards that are then enforced by the Federal Attorney Office for Protection of Environment (PROFEPA).
Among other environmental regulations, SEMARNAT lays out requirements that mandate when manufacturers must obtain permits for specific potentially hazardous activities. It oversees environmental risk studies prior to setting up manufacturing operations and compliance with required management plans that ensure companies monitor certain emissions for safe operation.
6. Ministry of the Interior
The Ministry of the Interior is also important for manufacturers and all Mexico FDIs, because it is this Mexico government agency that will protect the safety of businesses operating within the country. It ensures all goods moved within and outside of the country are done so in a way that does not threaten national security. This organization has also worked to create safer, more positive conditions for manufacturers in Mexico.
Know your regulatory requirements
Starting a manufacturing operation in a new country can be a daunting task. It requires an understanding of that country's laws, industrial regulations, and infrastructure, to name just a few complications. It is important for companies to understand the regulations governing manufacturing prior to establishing an operation. In some cases, an early misstep can lead to major delays or costly fines.
Fortunately, Mexico also offers a simple solution for working easily through the requirements laid out by the six agencies discussed above. The shelter system allows manufacturers to focus on what they do best—manufacturing—while your shelter service provider manages the regulatory hurdles of launching a new operation. Having an experienced partner in this startup process can mean more rapid registration and permit processing and greater confidence in a successful startup.
If you're looking for a partner to help you manage the administrative side of your Mexico manufacturing operation, from startup or beyond, contact Tetakawi today.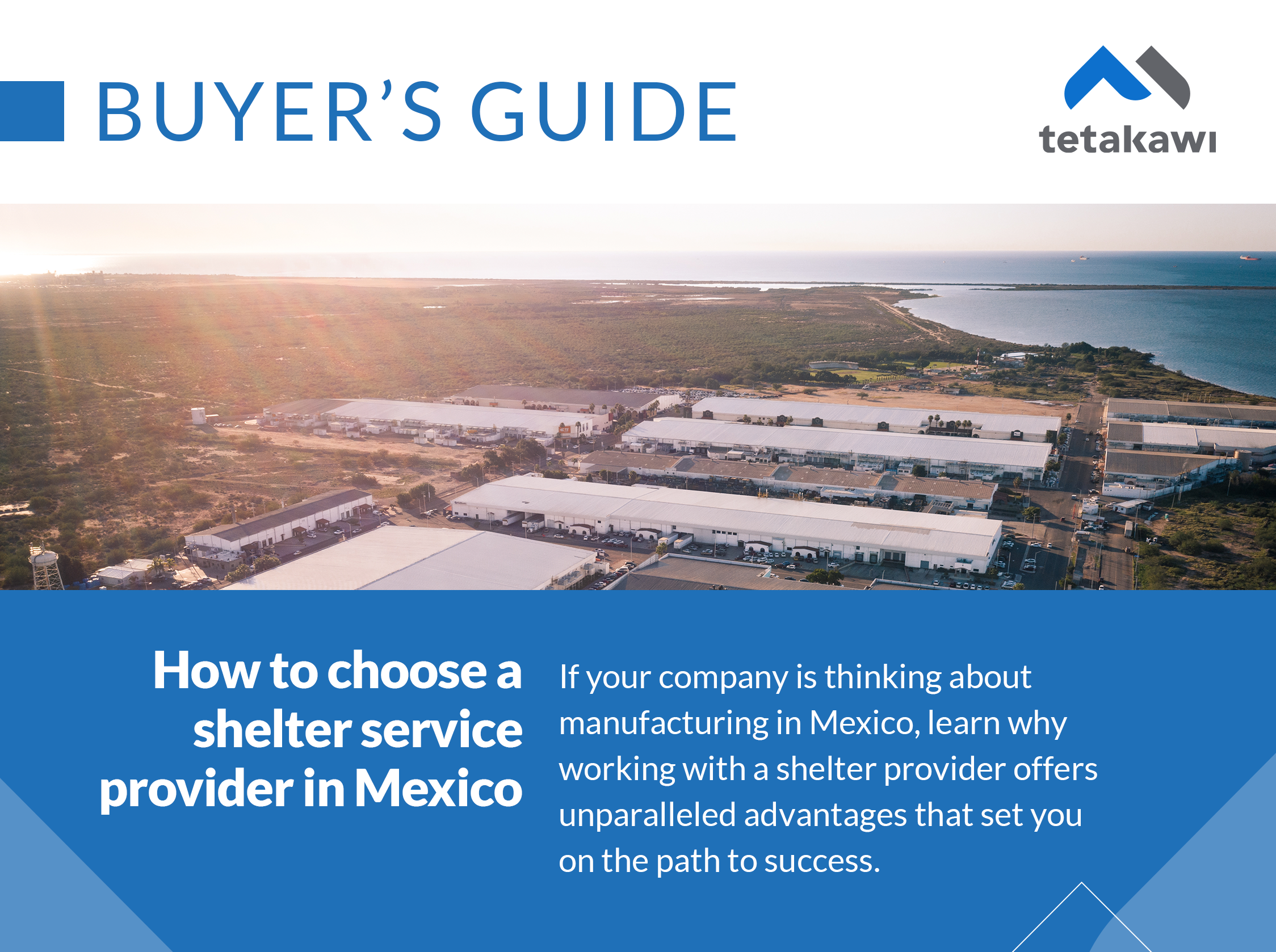 How to Choose a Shelter Service Provider in Mexico
Working with a shelter company is the quickest and most cost-effective way to expand into Mexico. But how do you choose the right partner and evaluate them from top to bottom?
Download this Ebook to make sure you're getting what you want before signing the dotted line.