The Advantages of Mexico's Infrastructure Improvements
Well-connected, heavily supported, and up-to-date infrastructure is critical for success if you're thinking about establishing a manufacturing operation. Explosive new growth in Mexico's infrastructure is making the country even more attractive for companies seeking success.
Over the past decade, Mexico's manufacturing sector has grown exponentially. In response, the Mexican government has taken significant steps to make the country more compatible with the manufacturing needs of companies across all industries. Mexico's infrastructure improvements have accelerated over time. Though the government has always had its eye on improvements, renewed focus in recent years has allowed Mexican infrastructure to become even more robust.
Given this foundation, companies seeking to manufacture in Mexico benefit from improved transportation, communications energy, and education infrastructure, which all contribute to an attractive landscape for establishing operations.
New Growth in Mexico Infrastructure Spending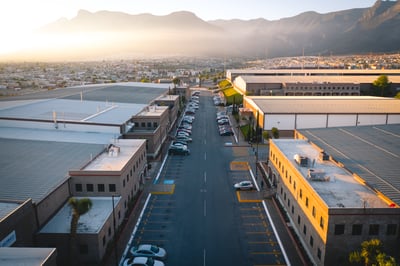 Historically, federal investment in infrastructure has fluctuated due to lack of construction, and water utility infrastructure. Since that time, Mexico's President Andres Manuel Lopez Obrador has focused on the expansion and modification of Mexico's infrastructure. President Obrador seeks to reform the investment strategy, double spending on large projects, boost the construction budget, and spend the equivalent of 4.1% of Mexico's GDP on overall infrastructure and social programs. These efforts will not only help sustain industry in Mexico but have also improved the manufacturing outlook for various industry sectors.
Significantly accelerated spending programs have boosted infrastructure in Mexico. As recently as 2014, the Mexican government published its report on the "National Infrastructure Program," which outlined a $600 billion plan to improve transportation, communication, and energy infrastructure. Among the main projects were mobile service and fiber optics expansions, an extension of the Veracruz harbor, and electricity generation, distribution, and transmission projects – each of which would have a positive influence on the ability of manufacturers in the region to conduct their operations.
In November of 2019, the government announced the first phase of an ambitious infrastructure plan, which encompasses USD 44 billion in spending. This investment in Mexico infrastructure comes mainly from the private sector, with works projects that will include highways, railways, ports, and airports, as well as investments in telecommunications.
The Advantages of Mexico Infrastructure Improvements
As a mature hub for manufacturing, Mexico offers world-class infrastructure that continues to improve, especially given the recent push from private sector investment. This presents several advantages for manufacturers as they seek to establish operations in the country that has matured into a global manufacturing hub, offering world-class industrial real estate and modern infrastructure throughout the country. These advantages include:
Faster mobile and data telecommunications
New and improved highways country-wide
Well-connected rail service between Mexico and border cities in the U.S.
Seaport access on both the east and west coasts
In particular, in the areas of transportation, communications, energy, and education, Mexico's infrastructure improvements continue to lay the foundation for opportunity.
Easy Transportation with Highway and Railway Expansion
Mexico's participation in NAFTA and, most recently, USMCA means manufacturers in Mexico will continue to have a significant free trade advantage that saves them money and creates efficiencies. Mexico is focusing heavily on improving transportation infrastructure – including roads and bridges – to make supply chains more efficient and empower businesses to save the most money. According to Business News Americas, a $1.7 billion rail-based expansion investment in Mexico's infrastructure is planned.
Well-Linked Communications Improve Connectivity
Communications infrastructure is essential for manufacturers in Mexico. As a result, Mexico has placed heavy emphasis on improving in this area. Area Development reported that AT&T's investment of $3 billion to extend its high-speed mobile internet service to Mexico. In addition to expanded connectivity to 100 million consumers and businesses, AT&T's vision is to create connected Smart Cities across the U.S. and Mexico. This means better connectivity for manufacturers, along with the continuation of industry 4.0's digital adoption.
Increased Efficiency with Ample Energy Sources
Since 2013, Mexico has harbored an ideal climate for energy reform and infrastructure improvements that will bring oil prices down for manufacturers. Specifically, when the country's national oil company, Pemex, became a state-owned productive group in 2013, the company was able to enjoy much more independence from the government. More recently, the U.S. government and Pemex agreed to exchange heavy oil pumped in Mexico for light crude oil produced in the U.S. As a result, Mexico's oil refineries will be able to make more gasoline and run more efficiently.
Movement for energy reform has also started, as renewable sources play a big part in the advancement of energy in Mexico. Private local and foreign companies have begun to invest in solar, wind, and natural gas technologies that will establish 50% of the new energy infrastructure by 2021. Overall, these improvements in Mexico's infrastructure will make it cheaper and more accessible for manufacturers to access varied energy sources.
Education Infrastructure Improvements and Skilled Labor
Mexico has taken significant strides in creating a more educated populace. Educational funds are allocated through all stages of the education process. For example, funds are used to improve schools in rural and poor areas, which often lack electricity and roofs. As a result of higher funding, technical schools, colleges, and universities focus on science and engineering, enabling students in Mexico to earn more engineering degrees annually than in Canada or Germany. As Mexico continues to improve education within the country, manufacturers in Mexico will have access to valuable, skilled labor.
Overall, Mexico's infrastructure improvements remain a top priority for the Mexican government, leading to continued benefits for companies moving their operations to Mexico. In particular, hub cities known for their manufacturing expertise each have well-connected infrastructure that contributes to the region's success. You can learn more about the infrastructure in these cities here:
At Tetakawi, we continue to make use of this established and growing infrastructure in our day-to-day operations throughout our manufacturing communities. To learn more about how Mexico's booming infrastructure can benefit your existing or future operation in Mexico, talk to a Tetakawi expert.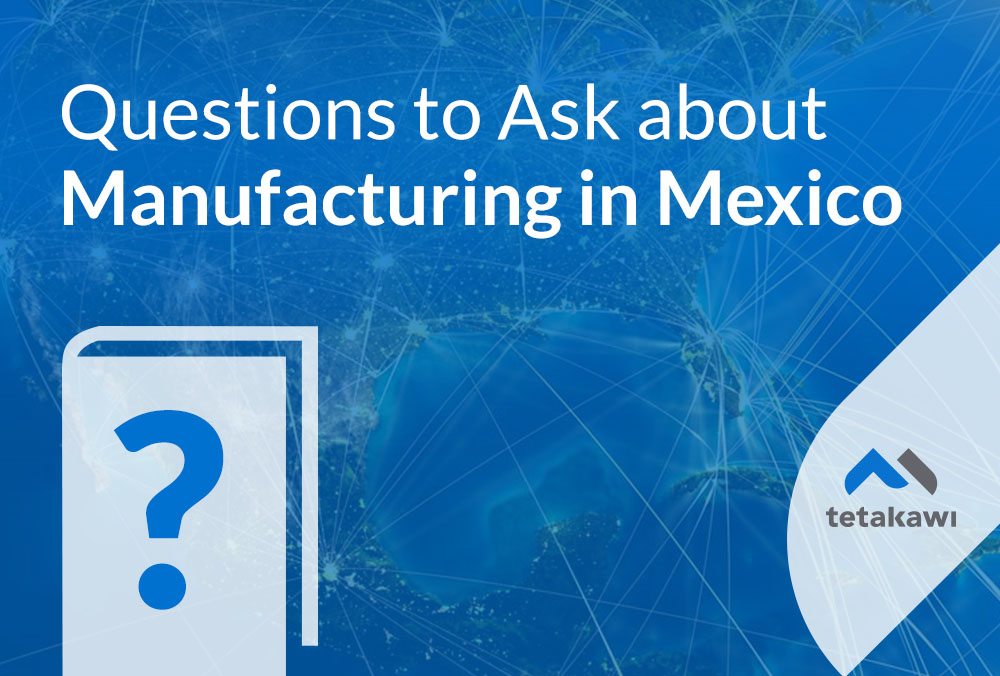 Start your journey into Mexico today!
50+ Questions to ask before expanding into Mexico
Thinking about expanding into Mexico? Step 1 of your due diligence process is answering all of these questions. Over the last 33 years, thousands of companies have used this guide to accelerate their expansion into Mexico.