Overview of Holidays, Paid Time-Off, and Employee Benefits in Mexico
Get to know Mexico's legally required paid time-off holidays and benefits to better structure workforce requirements and bonus packages.
Mexico's industrial clusters have led to the creation of dense local supply chains and a highly experienced workforce, often trained in by regional schools or vocational centers focused on serving those clusters with skilled workers. Employers willing to enter the area with competitive pay and a robust benefits package will find they can attract highly qualified entrants.
It's important to note, however, that some benefits are non-negotiable. Mexico's Federal Labor Law establishes baseline benefits, including paid time off. The first step to establishing a competitive benefits package in Mexico is to understand the national baseline.
Standard work week in Mexico
A standard work week in Mexico, as prescribed by the Federal Labor Law, is six days, running from Monday to Saturday. For day shift workers that is a 48-hour week, while night shift workers have a 42-hour week. Wages are accounted for on a daily basis and typically paid out weekly. Employees who work on Sunday receive an additional 25 percent beyond the regular daily wage.
Legal holidays in Mexico
Most years there are seven regular paid time-off holidays observed in the Mexican workplace. A new holiday is added once every six years when the new president is inaugurated. Expect to observe the following days with paid time-off, at the daily pay rate, for your employees:
January 1: New Year's Day
First Monday in February: Constitution Day
March 16: Benito Juárez's Birthday. Observed third Monday in March.
May 1: Labor Day
September 16: Independence Day
November 20: Revolution Day. Observed third Monday in November.
December 1: Inauguration Day. This holiday occurs every six years with the swearing in of a new Mexican President. The last such day was in 2018.
December 25: Christmas
Of course, some manufacturing operations require around-the-clock attention. Statutory holiday work is paid at double the typical time. It does not count against the daily or weekly maximum for determining triple time.
Additional paid time off in Mexico
In addition to the nationally recognized holidays, employers are also required by federal law to provide paid vacation and a vacation bonus.
Employees who have provided one year of service must be afforded a minimum of six paid vacation days in their first year of employment. You will add two more working days to that vacation time every following year through the fourth year. After five years, employers are required to add two days of vacation time every five years.
Paid Vacation Days
Length of Service
Paid Days Off
1 year
6 days
2 years
8 days
3 years
10 days
4 years
12 days
5 to 9 years
14 days
10 to 14 years
16 days
15 to 19 years
18 days
20 to 24 years
20 days
25 to 29 years
22 days
30 to 34 years
24 days
Source: Secretaría Del Trabajo y Previsión Social. Ley Federal Del Trabajo.7
The vacation "premium," or prima, is calculated as a minimum of 25 percent of the salary added to the daily pay rate for those vacation days. This cash benefit is intended for employees to use on their vacation, although it can be paid out either at the time of vacation or after a year of service. Some companies will provide a bonus that's between 50 to 100 percent of the daily pay rate, and this may depend upon the local union's bargaining power.
Of course, companies may offer additional days off as a supplementary benefit to attract highly qualified workers. For example, a field survey by Tetakawi of workers in Hermosillo found that 22 percent of field survey respondents had more vacation days than the federal minimum requirement, while in the Monterrey metro area, 13.5 percent of field survey respondents reported having more vacation days than the federal minimum.
Aguinaldo: Mexico's mandatory bonus
While Christmas is observed with paid time-off, many companies also shut down operations between Christmas and the New Year holiday. On top of that time off, federal labor law requires companies to pay a bonus, known as aguinaldo or the thirteenth salary, of a minimum of 15 days of pay at the employee's typical daily rate (except for the first year, which is prorated). The payment must be made by December 20 but can be made in installments.
Along the Mexican border, it is not unusual for maquiladoras to also pay workers a bonus to return to work after the Christmas holiday. Many of these employees come from southern areas and return to their hometowns and cities during the holiday season. To encourage those employees to return, Mexico border factories often offer a cash incentive to bring them back. This does not typically affect maquiladoras in the interior of the country, where employees are usually native to the area.
Paid sick and maternity leave in Mexico
Federal subsidies are provided to cover sick or injured workers, in instances verified by medical authorities at IMSS, for up to 52 weeks. Employees receive 60 percent of their salary, although that jumps to 100 percent coverage in the event of a work-related illness.
In addition, Mexico's Federal Labor Law dictates 12 weeks of paid maternity leave, paid by the Mexican Social Security Institute. The law also provides five working days of paternity leave. The law also was recently amended to provide paid time off for parents with children under the age of 16 diagnosed with cancer.
Going above and beyond
Beyond these legally mandated benefits in Mexico, some companies extend additional benefits to ensure employee loyalty, satisfaction and overall production. While the Federal Labor Law is an essential place to begin your understanding for expectations around paid time off, it shouldn't be the only step taken to understand benefits expectations. The companies working in your region and industry are also setting expectations. If your company meets only the bare minimum of legally required paid time off, you run the risk of incurring expensive turnover costs. Experts put the cost of turnover at anywhere between six to nine months of salary.
By working with an expert in employee recruitment to understand what other companies in your area are offering, you can establish a competitive benefits package that will attract the best and reduce the chance of expensive turnover. Contact Tetakawi to begin tailoring a benefits package for your target employee base.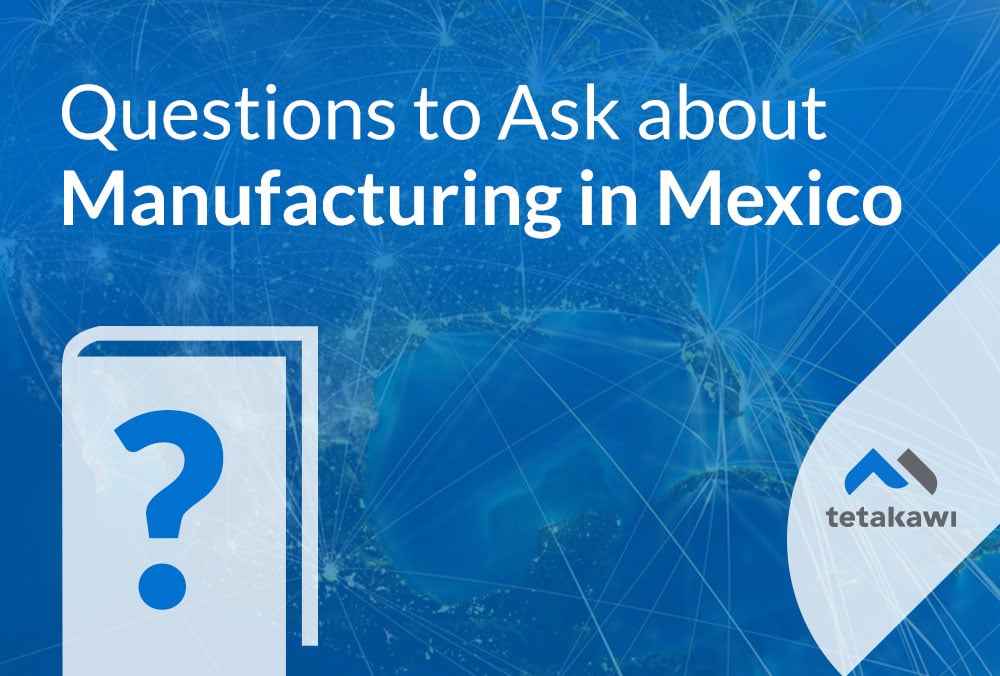 Start your journey into Mexico today!
50+ Questions to ask before expanding into Mexico
Thinking about expanding into Mexico? Step 1 of your due diligence process is answering all of these questions. Over the last 33 years, thousands of companies have used this guide to accelerate their expansion into Mexico.