Get to know Mexico's legally required paid time-off holidays and benefits to better structure workforce requirements and bonus packages.
Manufacturers that offer competitive pay and a robust benefits package will find they can attract a highly qualified labor force in Mexico. It's important to note, however, that some employee benefits in Mexico are non-negotiable. Mexico's Federal Labor Law establishes statutory benefits, including paid time off. The first step to establishing a competitive benefits package in Mexico is understanding the national baseline.
Below, we outline key employee benefits in Mexico, including legal holidays, expectations for paid time off, and mandatory bonuses and pension payments.
What is the standard workweek in Mexico?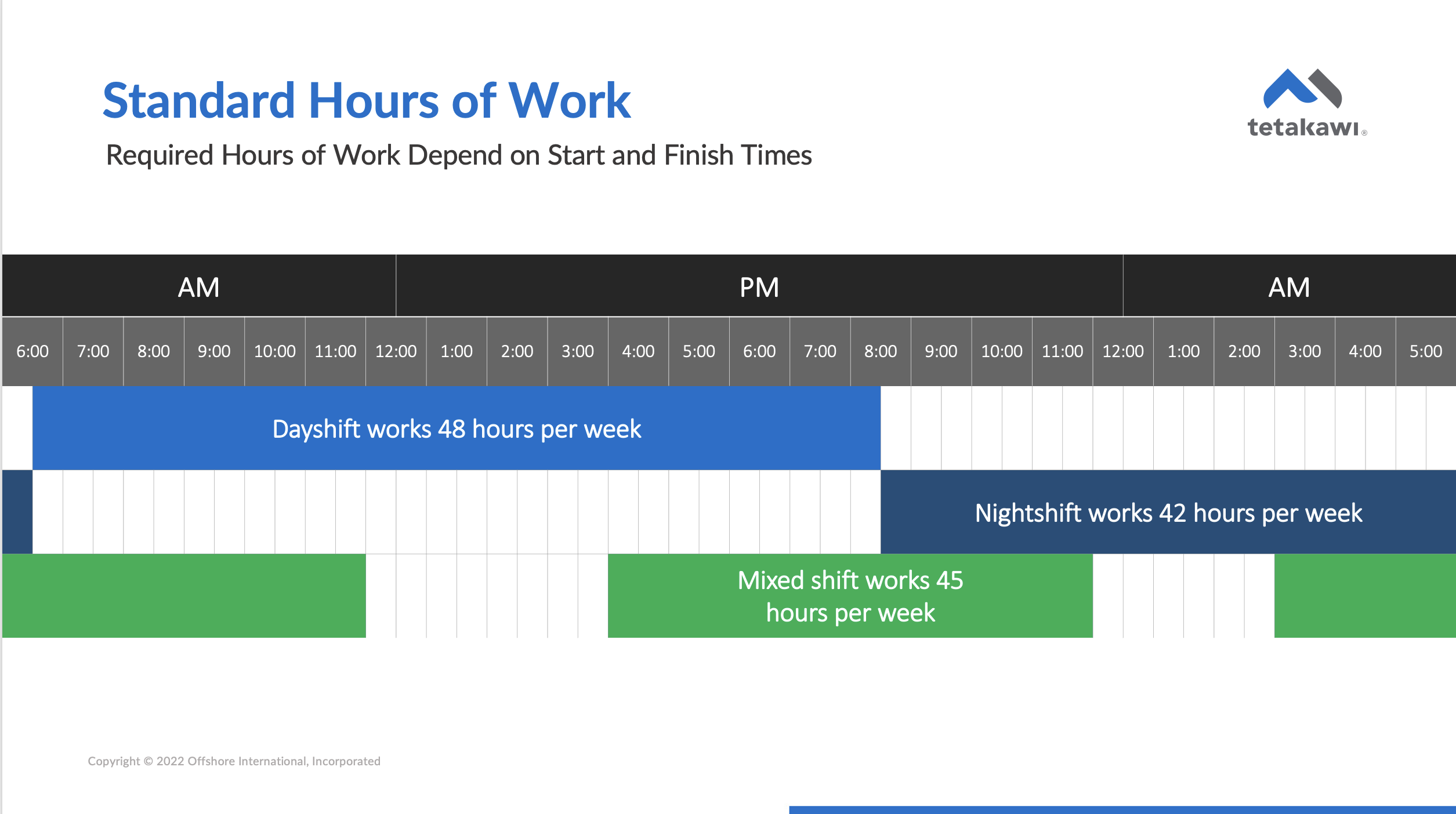 A standard work week in Mexico is six days, running from Monday to Saturday, as prescribed by Mexico's Federal Labor Law. For day shift workers, that amounts to a 48-hour week. Night shift workers have a 42-hour week. Mixed shift workers have a 45-hour workweek.
Wages are accounted for on a daily basis and typically paid out weekly. Employees who work on Sunday receive an additional 25 percent beyond the regular daily wage.
What are the paid holidays in Mexico?
Most years, seven regular paid time-off holidays are observed in the Mexican workplace. A new holiday is added once every six years when the new president is inaugurated. Expect to observe the following days with paid time off, at the daily pay rate, for your employees:
January 1: New Year's Day

First Monday in February: Constitution Day

Third Monday in March: Benito Juárez's Birthday

May 1: Labor Day

September 16: Independence Day

Third Monday of November: Revolution Day

December 1: Inauguration Day. This holiday occurs every six years with the swearing-in of a new Mexican President. The last such day was in 2018.

December 25: Christmas
Of course, some manufacturing operations require around-the-clock attention. Statutory holiday work is paid at double the typical time. It does not count against the daily or weekly maximum for determining triple time.
Additional paid time off in Mexico
In addition to these statutory paid-off holidays, employers are required by Mexico's Federal Labor Law to provide paid vacation and a vacation bonus.
As of January 1, 2023, employees who have provided one year of service must be afforded a minimum of 12 paid vacation days in their first year of employment. These 12 vacation days may be taken consecutively, according to a 2022 reform of Mexico's Federal Labor Law. Two more working days are added to that vacation time every following year through the fifth year. After six years, employers are required to add two days of vacation time every five years until the maximum of 32 days is reached. Here is a chart that breaks down the correlation between the length of services and paid days off in Mexico: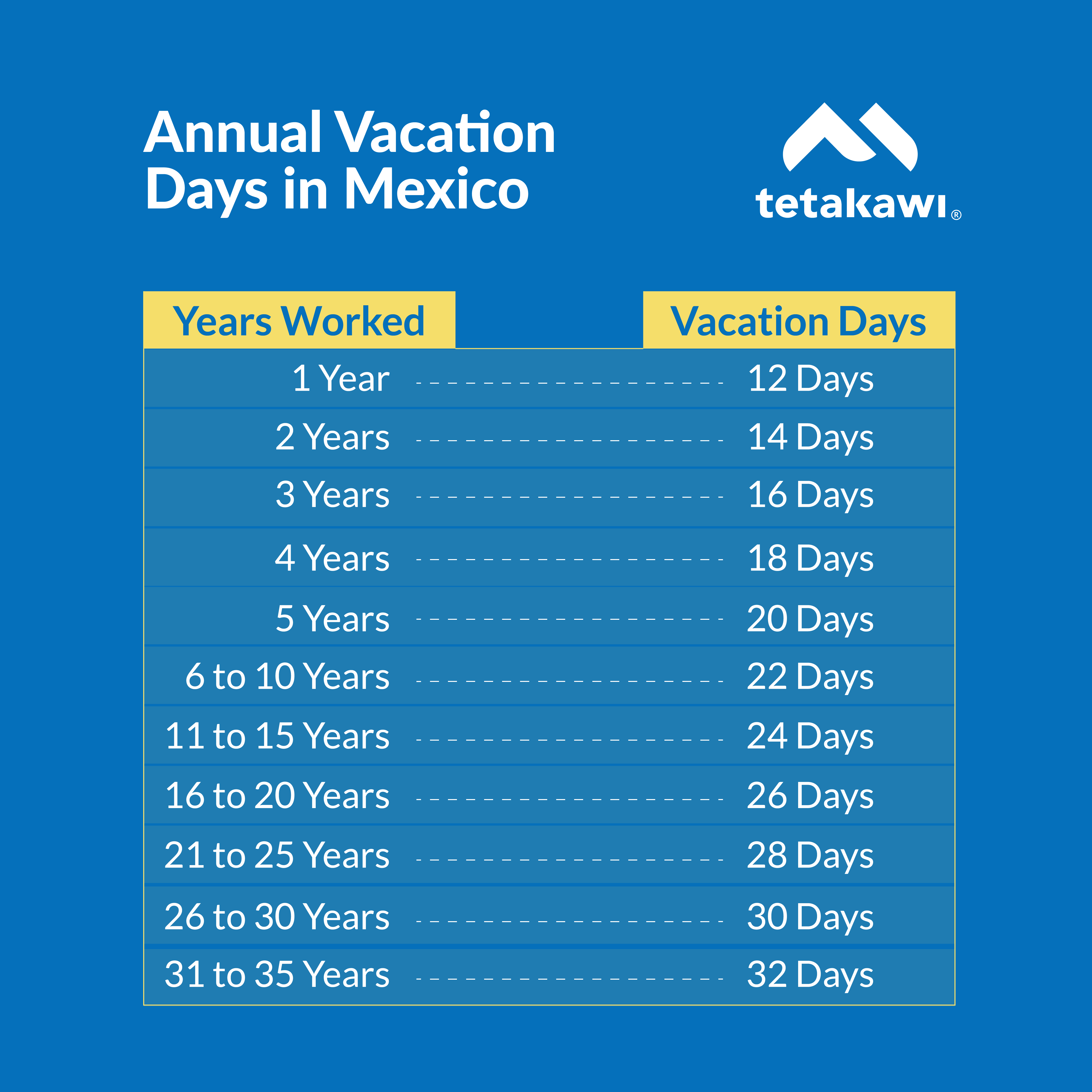 Source: Secretaría Del Trabajo y Previsión Social. Ley Federal Del Trabajo.7
The vacation "premium," or prima, is calculated as a minimum of 25 percent of the salary added to the daily pay rate for those vacation days. This cash benefit is intended for employees to use on their vacation, although it can be paid out either at the time of vacation or after a year of service. Some companies will provide a bonus that's between 50 to 100 percent of the daily pay rate, and this may depend upon the local union's bargaining power.
Some companies offer additional days off as a supplementary benefit to attract highly qualified workers. For example, a field survey by Tetakawi of workers in Hermosillo found that 22 percent of field survey respondents had more vacation days than the federal minimum requirement, while in the Monterrey metro area, 13.5 percent of field survey respondents reported having more vacation days than the federal minimum.
Aguinaldo: Mexico's mandatory bonus
While the Christmas holiday is observed with paid time off, many companies also shut down operations between Christmas and New Year's Day. In addition to this time off, Mexico's Federal Labor Law mandates that companies pay a bonus known as aguinaldo or the thirteenth salary. This bonus is a minimum of 15 days of pay at the employee's typical daily rate, with the exclusion of the first year, which is prorated. The payment must be made by December 20 but can be made in installments prior to that date.
Along the Mexican border, it is not unusual for maquiladoras to also pay workers a bonus to return to work after the Christmas holiday. Many of these employees come from southern areas and return to their hometowns and cities during the holiday season. To encourage employees to return, Mexico border factories often offer a cash incentive to bring them back. This does not typically affect maquiladoras in the interior of the country, where employees are usually native to the area.
Paid sick leave in Mexico
Federal subsidies are provided to cover paid time off for sick or injured workers, as verified by a medical professional, for up to 52 weeks. In the event of a work-related illness, the employee receives 100 percent of their salary. For a non-work-related illness or injury, employees receive 60 percent of their salary.
Paid maternity and paternity leave
Mexico's Federal Labor Law mandates 12 weeks of paid maternity leave, paid by the Mexican Social Security Institute. This is generally taken as six weeks prior to and six weeks after the birth of the child unless recommended otherwise by a physician. In the event of an increased hospital stay for the mother or child, mothers are entitled to half of their salary or wages for up to 60 days. The law also provides five working days of paternity leave.
In the case of adoption, working mothers are entitled to six weeks of paid leave at half their salary or wages. Working fathers receive five paid days' leave.
Parents are also provided paid time off to care for children under the age of 16 diagnosed with cancer for up to 364 days over a three-year period.
Profit sharing
Mexico's Federal Labor Law mandates that companies share 10 percent of their annual taxable profits with employees. This is paid out using a formula that allocates 50 percent of this amount to employees based on the number of days worked and 50 percent based on salary level. These profits must be distributed within 60 days of filing the annual tax return.
As of labor law reforms in 2021, this profit-sharing amount is capped for each employee so that these earnings may not exceed three months' salary or the average profit-sharing amount the employee received over the past three years, whichever is more favorable to the employee.
Pension
Employers have been required to pay what amounts to 2 percent of each employee's base salary toward their pension for retirement and 3.15 percent of that base salary as pension contributions for unemployment and old age insurance.
However, due to a reform to Mexico's Social Security Law passed in December 2020, employer contributions will increase from 5.15 percent to 13.87 percent at set intervals from 2023 through 2030.
In addition, many employers opt to provide supplementary pensions as a retirement benefit to attract and retain their workers.
Going above and beyond
While Mexico's Federal Labor Law is an essential place to begin your understanding of expectations around paid time off, it shouldn't be the only step taken to understand benefits expectations. The companies working in your region and industry are also setting expectations. Beyond the statutory employee benefits in Mexico, many companies extend additional benefits to strengthen employee loyalty, satisfaction, and productivity. If your company meets only the bare minimum of legally required paid time off, you risk incurring expensive turnover costs. Experts put the cost of turnover at anywhere between six to nine months of salary.
An expert in employee recruitment can provide insight into what other companies in your area are offering. This can help you establish a competitive benefits package that will attract the best talent and reduce the chance of costly turnover.
Navigating Mexico's Labor Laws with Shelter Service Providers
Shelter service providers like Tetakawi are crucial for businesses operating in Mexico. They ensure compliance with complex labor laws, guide companies through statutory benefits like workweek hours, mandatory bonuses, and paid leave, and manage administrative tasks. Additionally, they help companies craft attractive benefits packages, leveraging their in-depth understanding of the local labor market. Their role extends to providing education on cultural and legal nuances, fostering a positive work environment, and promoting strong employee relations. Therefore, a shelter service provider is a comprehensive solution for navigating employee benefits in Mexico.
Contact Tetakawi to begin tailoring an employee benefits package for your target labor base in Mexico.
Subscribe
Sign up and stay informed with tips, updates, and best practices for manufacturing in Mexico.