Mexico's Competition in the Automotive Industry
Throughout the years Mexico's auto market has been able to keep up with market changes and transition with trends leading the automotive market. Future trends including SUV sales, utility vehicle sales, and light vehicles sales contribute to the competitiveness of Mexico's market. The INA's (National Autoparts Industry) ten year forecast for production growth in North America shows the three countries growing about 3.6%.
Mexico's Automotive Industry Overview
Recent investments from larger companies have lead the way for suppliers to follow suit. In 2016, automotive FDI registration reached $4.8 Million USD. Part of the 2016 FDI was attributed to recent production from Kia motors in Nuevo Leon that pushed Mexico's market share and boosted productivity. Other companies in Mexico building plants are Audi in San Jose, 2018, Compass in 2018, BMW in San Luis Potosi in 2019, and Toyota in Celaya in 2019. Many of these plants look to produce SUVs to keep up with sales trends. Mexico has proven to be ready for shifts in trends as different economic factors come into play. For example, light vehicle sales in Mexico are expected to rise as the country's middle class grows.
As a competitor on a global scale, Mexico ranks 3rd in the OCDE because of the low taxes on labor. The country touts its highly skilled labor market and its history of producing technical parts for aerospace, automotive, electronics, and medical device industries, to name a few. Exports from the secondary labor sector, which include manufacturing and mining, amounted to 30.6% of Mexico's total exports in 2015. Mexico is the 5th largest automotive parts exporter in the world, with 41% of goods going to the U.S. The country's competitive advantage is based on a network of suppliers that cluster around Mexico's main manufacturing industries. Cooperation along with implicit competition enables Mexico's supplier industry to increase production efficiencies and boost export around the globe.
In 2016, Mexico's production value was $55,171 Million USD, with $51,273 million USD in exports, and $39,191 million USD in imports. In total, Mexico has 13 Free Trade Agreements with 45 countries many of which are top export destinations including, North America, China, Germany, Japan, Spain, and the UK. With 63 international airports, 67 border crossings, 117 ports and terminals, global access and trade deals put Mexico manufacturing on the map.
Global Industry Overview
Germany is the 3rd largest exporter in the world, with 11.4% going to cars and 4% going to auto-parts. The country's main export destinations are within Europe beginning with the UK, Spain, France, Hungary, and Poland. The majority of Germany's auto imports come from the Czech Republic (15%) and France (9%). Almost 50% of Mexico's exports to Germany are cars and auto parts, reinforcing the industry partnership between Europe and North America.
A little more than 20% of Japan's total exports represent the automotive industry. The top export countries for Japan's automotive industry are the U.S., China, United Arab Emirates, Mexico, and Canada. The automotive industry dominates Japan and Mexico trade as 15% of the country's total exports to Mexico are auto-parts, with an additional 16% for cars, trucks and buses.
India has the highest population of labor-aged people in the world, 66%, with Mexico following right behind. 60% of India's exports go to Europe and the U.S. and cooperates with Japanese suppliers. The country's automotive market went global in 1991 and pushed for government initiatives to facilitate infrastructure development and technological flow. India's automotive industry is also promoting a clustering program to mirror Mexico's and other countries around the world. Although India's automotive market is young, it has a strong hold on auto components manufacturing, and is the largest tractor and two wheeler manufacturer in the world. Buses, heavy trucks, and cars also take part in the projected 10% growth in 10 years.
Brazil's recent economic drop in 2015 enabled positive growth in other automotive export countries, including Mexico. Inflation is at 4.1% and the GDP growth is declining at around 3%. These factors are attributed to political crises that decline productivity, and in turn commodity value. Because government entities are connected to business development, the political crisis affects more than just the economy but the growth of entrepreneurial advancement and burdens manufacturing efforts. Brazil's current state of economic distress should not be taken lightly as it is the largest economy in Latin America, and the country's ability to bounce back is shown with an expected 2% growth in the next year. Flavio del Soldato, CEO of Automotiva Usiminas noted how 6 OEM projects are underway, and many of the manufacturing companies are trying to work with the government to find a solution. In 2016 Brazil's top imports were from Europe, Asia, and North America, and their top exports were to North America, Europe, and South America. Automotive goods make up about 8% of Brazil's total exports, a dip from previous years but still the 3rd largest export in the country.
Eastern European countries like the Czech Republic also maintain a strong manufacturing presence. Private sector reforms have expanded the Czech business growth, and maintains one of the lowest unemployment rates in the European Union. Import and Export value make up 163% of the country's GDP. As part of the European Union, the Czech Republic has access to free trade with Mexico and the ability to compete on a global scale.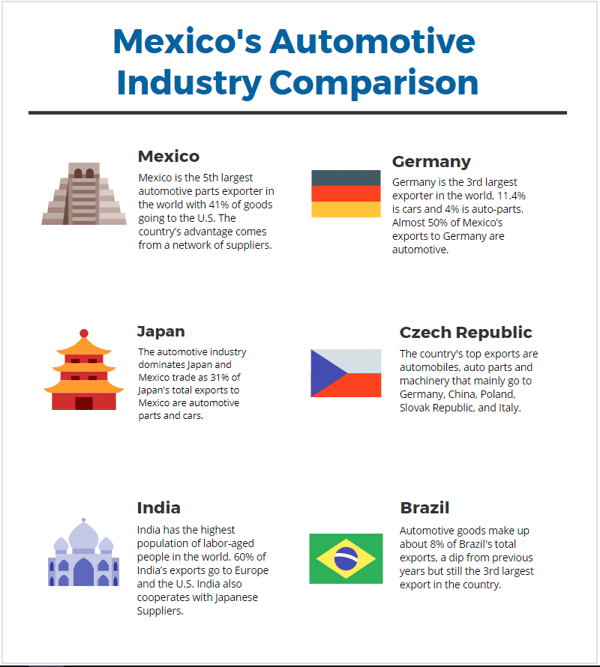 Mexico's auto market competes and collaborates with these countries, among others, for market share and production value. In 2015, Mexico's GDP trade percentage grew to around 73%, up about 7% from 66% in 2014. As an expert country in automotive manufacturing, Mexico is a leader in keeping up with market trends that push the boundaries of automotive manufacturing.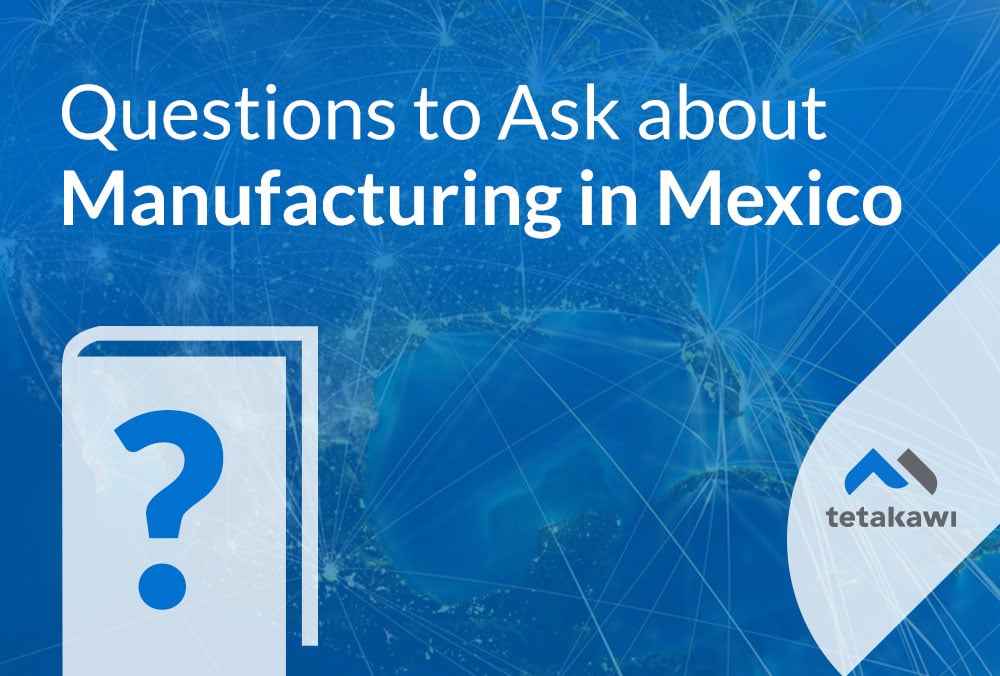 Start your journey into Mexico today!
50+ Questions to ask before expanding into Mexico
Thinking about expanding into Mexico? Step 1 of your due diligence process is answering all of these questions. Over the last 33 years, thousands of companies have used this guide to accelerate their expansion into Mexico.