Mexico's Plastic Manufacturing Industry
Mexico's propensity for free trade has enabled a rise in manufacturing production and assembly, compared to other Latin American countries. The increased manufacturing output benefits suppliers in the plastics industry because many of them cater to the automotive, appliances, and food packaging industries.
Global Market for Mexico's Plastic Manufacturing
Mexico is the largest importer of U.S. plastics, particularly dealing with resin, mold making, and other specific plastics products. Mexico imports enough plastics material to hold a USD $ 4 Billion deficit with the U.S., which is mainly attributable to benefits from NAFTA. Mexico's plastics imports have made the country the 3rd largest importer of capital goods for the plastics industry, and 4th largest in machinery imports, globally. The access to duty-free trade and proximity to the Mexican market and manufacturing industries provide U.S. and other foreign plastics companies with a competitive advantage.
Over the past decade, the plastics industry in Mexico has been growing with an average 13% rise in exports, bringing in over USD $20 Billion a year. Manufacturing industry sectors use plastic materials to produce final products or create parts for assembly, export, and domestic distribution.
Plastic Manufacturing Industry in Mexico
Mexico is ranked as the 8th largest plastics consumer in the world and the industry accounted for 5.3 % of the Mexican manufacturing sector in 2016. The plastics market value in Mexico exceeded $26 Billion in 2016. That same year, Mexico exported 34% of the 1.9 million tons produced.
The key growth driver for plastics in Mexico is packaging, specifically food and appliance packaging. The plastic materials that can be found in the packaging industry in Mexico are thermoplastics and thermostat, which are types of resins. Materials used in packaging and other plastic products and normally imported by Mexico. Resins are the top plastics material imported to Mexico from the U.S., specifically polyethylene. For example, items such as film, sheet, pipes, tubes, bags, toys, and home items use resins. The U.S. resin industry held a surplus with Mexico at $6.7 Billion USD in 2014.
Aside from packaging, molding machinery and raw materials are used to make parts for automotive, aerospace, and appliances. For this reason, high-tech manufacturing machinery usage has risen as new processes and design methods are being developed across the world. The Mexico manufacturing industry has begun to adapt to these changes and has been able to attract increasingly high Foreign Direct Investments. Mexico is in need of ethylene plants, which are key production facilities that could possibly lower their surplus with the U.S. and raise their domestic GDP.
Plastic Manufacturing Locations and Supply Chains in Mexico
Plastics products are used in manufacturing operations throughout Mexico and the companies that supply them are in great demand. There are over 4,000 plastic companies in Mexico, with strategic locations to support production, including in the state of Jalisco and Mexico City. Other plastics powerhouse production states are Nuevo León, Puebla, Querétaro, Guanajuato. and San Luis Potosí.
According to the National Association of the Plastics Industry in Mexico (ANIPAC), the industries using plastic products and materials include food and beverages, construction, aerospace, automotive and auto parts, electrical, and agriculture. Many of the plastics companies in Mexico have begun consolidating and merging operations throughout the country within the past decade. This has enabled plastic manufacturing clusters to grow and supply chains to strengthen around the specific industries each manufacturing operation supports.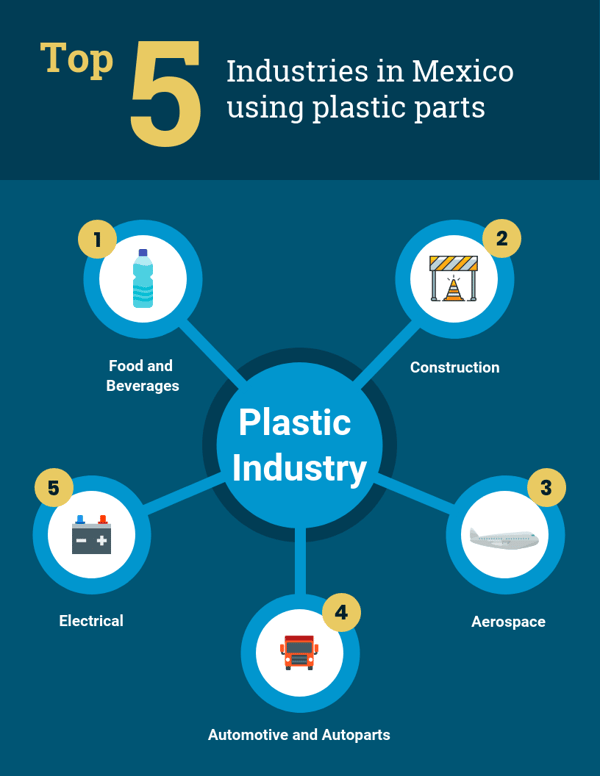 Plastic Recycling
As of 2017, China imported 65% of Mexico's plastic waste and recycled it into synthetic fibers, which are then exported back into Mexico for use. In January 2018, China banned all imported material waste including plastic, putting Mexico in a position to build their own plastic recycling facilities. Infrastructure for new industrial waste and recycling programs is said to be in the works as consumer and domestic markets processed over 50% of plastics in 2016. Some manufacturing companies maintain their own recycling process, but many are large multinationals who can afford to put effort into their environmental sustainability sector.
Plastics industry production has risen 56% since 2011, with an average annual investment of around $1 billion USD, indicating the industry's strength. Because plastic can be used to form many products, the manufacturing industry in Mexico greatly benefits from the composition of its parts. As the manufacturing industry in Mexico blossoms, so does its supportive plastics industry.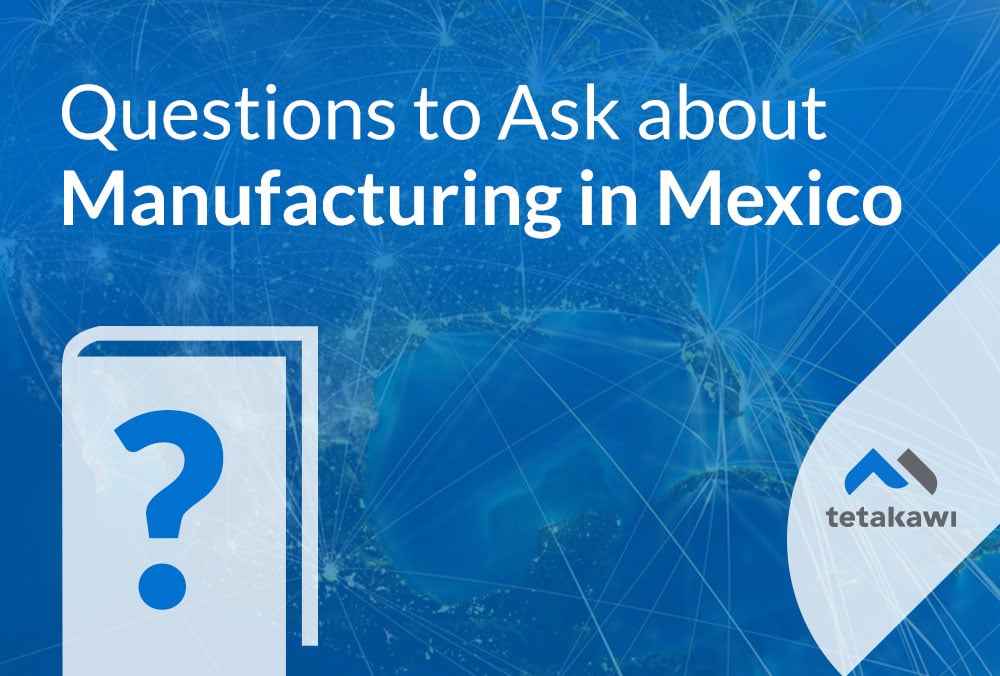 Start your journey into Mexico today!
50+ Questions to ask before expanding into Mexico
Thinking about expanding into Mexico? Step 1 of your due diligence process is answering all of these questions. Over the last 33 years, thousands of companies have used this guide to accelerate their expansion into Mexico.