Your Guide to Move Manufacturing from China to Mexico
Whether or not the United States reaches a trade agreement with China, the close of a year that's seen tariffs levied on $250 billion worth of Chinese goods has reminded manufacturers everywhere of the advantage of diversity in your manufacturing footprint or supply chain. Because of this, an increasing number of companies have made the tough decision to pull manufacturing from China and consider other low-cost manufacturing options.
The pricing challenge is not exactly new. As Greg Shugar, cofounder of Thread Experiment, wrote for Entrepreneur, unpredictability is a part of doing business in China. Economic and political factors can have a monumental on costs. As Shugar shared, "I remember through the years of the Great Recession, we got unexpected price hikes that were caused by anything from currency exchange to the cost of oil … one year, the Chinese government actually mandated that prices be raised by factories!"
However, many organizations are pointing to the Chinese tariffs as a "new normal." And that's more than reason enough to reexamine alternative manufacturing locations that may provide different benefits.
While manufacturing anywhere will have some level of unpredictability, working under the umbrella of an experienced shelter company can help manufacturers plan more strategically to withstand unexpected ups and downs.
Reasons Why You Should Manufacture in Mexico over China
There are a number of reasons manufacturers looking to move out of China might consider establishing operations in Mexico. Among them, are the following:
How To Move Your Production from China to Mexico
Shifting your production center isn't always an easy process. When Xcel moved its manufacturing out of China, CEO Robert D'Loren found building a new supply chain that met the old standards of quality took some trial and error. "It took us five deliveries to get it right," D'Loren told NPR. "Everything that could go wrong did go wrong."
That doesn't have to be the case when moving manufacturing into Mexico.
Manufacturers looking to expand into Mexico can work with a shelter service provider that acts as the local employer and manufacturer of record. The shelter manufacturing model provides a legal framework for operation and may offer a wide range of services that remove the regulatory and financial burdens of operating in Mexico. This model offers a rapid startup, low risk, and in many cases may help lower costs. There are many variations of the shelter model, so foreign companies have some flexibility in selecting the right partner.
Whether working with a shelter company or launching a wholly owned subsidiary in Mexico, the process will follow a similar course. The latter may simply take somewhat longer. Tetakawi has found that firms that partner with Mexican shelter companies to initiate and maintain their Mexican operations can ramp up for production within about 90 days.
Find or build a manufacturing facility in Mexico. Depending on specific production needs, companies will either construct a new facility to meet complex requirements or make improvements to a leased property. Many manufacturers find that facilities available for lease fit their space needs and can be appropriately fitted out within one to two months.
Hire and train your Mexico workforce. Manufacturers new to Mexico may find the recruitment process perplexing. However, with a multi-pronged recruitment plan, insight into expected local benefits and, perhaps, the aid of an experienced partner, the process of staffing a new production plant can be achieved within 30 to 60 days.
Build your supply chain in Mexico. Rebuilding a supply chain may be among the biggest challenges in moving to a new manufacturing location. It's critical that manufacturers consider alternatives for their product's Bill of Materials prior to making a move. Manufacturers leaving China specifically to avoid tariffs will need to find new suppliers that meet the same quality standards. In some cases, continuing to use components from Chinese facilities may mean incurring the full cost of the tariff.
However, more component and material suppliers are launching facilities in Mexico to support industry supply chains. Mexico is home to industry clusters that bring together specific industry supply chains, boosting manufacturing efficiency and innovation through collaboration. Today Mexico's is home to 38 IT centers, aerospace groupings and automotive clusters, among others. However, it is also typical for manufacturers to source materials from the United States thanks to the IMMEX tax incentives.
Manage logistics. In addressing customs requirements manufacturers will need to classify and value raw materials, components and equipment; review rules and requirements for export; and training personnel in Mexican customs rules and regulations. Companies also will need to research freight and logistics services providers and contract with service providers.
Production start-up. Once equipment is installed, inventory is in place and workers are trained, it's time to start producing goods and sending them into the marketplace.
Make Your Move to Mexico from China and Start Avoiding 301 Tariffs!
Companies waiting to see how trade talks are finalized before making a move may find they're more than a few steps behind their more strategic competition. After all, today's trade uncertainty is not the only disruption to hit manufacturers meeting global demand. It's simply the latest reminder that companies should consistently review their operational goals and costs to determine how a new strategy might prepare them for a stronger future.
Tetakawi is here to serve as your strategic partner. Our advisory services allow manufacturers to work one-on-one with experts who understand your business, your challenges, and your goals. Together, we can help your company build a strong future in Mexico.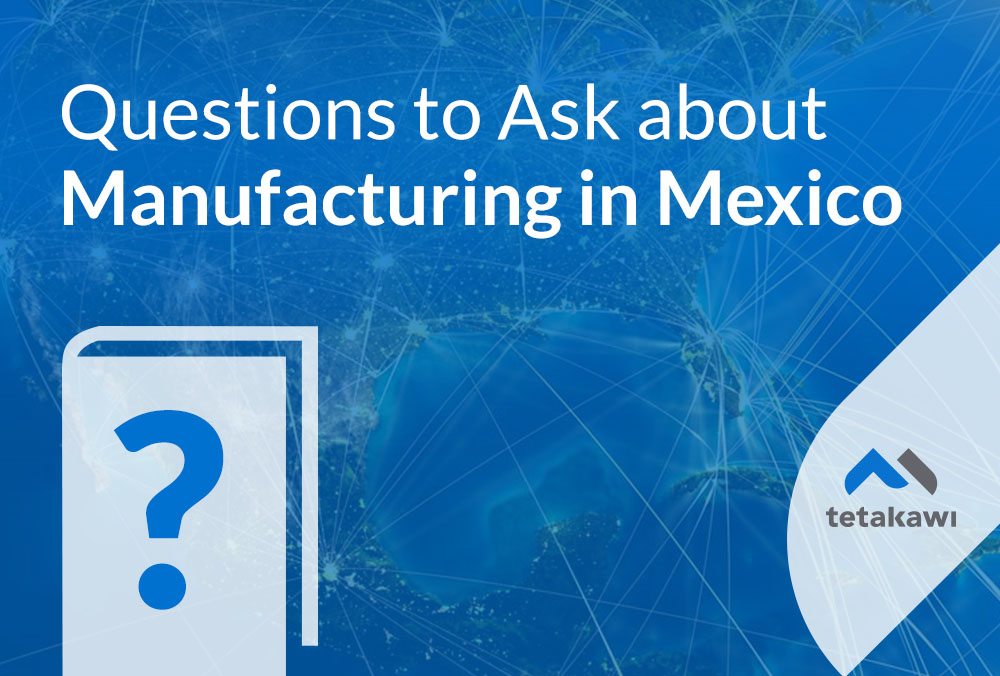 Start your journey into Mexico today!
50+ Questions to ask before expanding into Mexico
Thinking about expanding into Mexico? Step 1 of your due diligence process is answering all of these questions. Over the last 33 years, thousands of companies have used this guide to accelerate their expansion into Mexico.