NAFTA isn't Mexico's only Advantage
The political landscape has created an uncertain environment for manufacturers who want to invest in Mexico. Despite current polarizing rhetoric, cooperation between the two countries has seen growth in economic partnership in the past. The impact of NAFTA, growth of the Mexican market, and other free trade agreements all point to steady future investment in Mexico's manufacturing industry. Mexico's reputation for having a high skilled labor force, low production costs, and connected infrastructure are still a competitive advantage that benefit companies with or without the support of NAFTA.
NAFTA's Impact on U.S. and Mexican Employment
NAFTA has brought both growth and challenges to the U.S. and Mexico. While some U.S. jobs are moved others are created; and where some Mexican jobs are created, growth and employment in smaller Mexican businesses have seen low wages and idle growth. In a 2014 analysis of NAFTA's 20th anniversary by PIIE, less than 5% of U.S. job loss was attributed to rising imports from Mexico, with almost the same number of U.S. job creation annually from export to Mexico. The analysis also noted that a rise in trade deficit simultaneously happens during maximum employment in the U.S. For instance, when people have more consumer capital they are able to buy more imported products.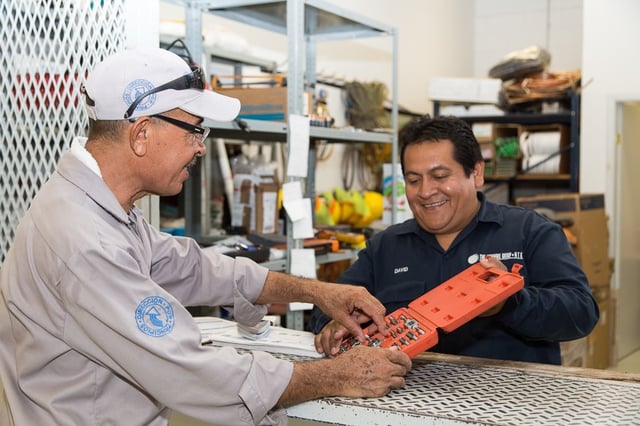 Mexico's manufacturing effect on US labor markets is much smaller than the automation boom or China's re-entry into the global economy. Infact, trade jobs in the U.S. benefit from their Mexican relationship. According to researchers for PIIE, 250 U.S. manufacturing jobs are made for every 100 Mexican jobs. The growth percentage of U.S. manufacturing reached an all time high in in 2016, up 30% since 2009. According to the L.A. Times, "Over the last six years, U.S. manufacturers hired 744,000 new workers, an uptick of 6%." As the manufacturing labor force in Mexico grows and becomes more prosperous, the U.S. becomes more technologically advanced in engineering skills and research initiatives, providing the U.S. with higher paying jobs.
Growth of the Mexican Manufacturing Industry compared to the U.S.
The benefits of NAFTA have made it easier to grow Mexico's manufacturing market, it provides a boost to the overall North American GDP. The largest economic volume between the U.S. and Mexico is two-way trade, where division of labor from both countries contributes to the production process of the final product. The main products exported by Mexico are vehicles, machinery, and electrical machinery. In-turn, the U.S. relies on Mexico to work as a catalyst for economic growth. The two-way U.S. Mexico trade accounted for about $345 billion in 2014, where 40% of U.S. materials were used in Mexico's final exported goods, compared to only 4% used in Chinese exports. It is because of NAFTA that the two-way trading partnership of manufactured goods, specifically automotive and aerospace is possible.
As the U.S.'s third largest trading partner, Mexico's growth performance has had a mild fluctuation, for the most part, since its debt crisis in the 1980s but is projected to rise in the next five years. The end of 2016 proved to hold miscalculated growth because of the surprise devaluation of the Mexican peso, which had many variables contributing to its decline including an energy reform, a stronger U.S. dollar, and threats towards its biggest free trade agreement.
Mexico represents only a small share of U.S. GDP trade, including a low deficit that has been declining since it's peak in 1986 (1.2%) to 2015 (0.2%). The US, however, accounts for half of Mexico's GDP with a 5% surplus. Overall, the U.S. has a low percentage of import and export compared to Europe and the rest of North America. According to Business Insider, Germany and Japan account for the U.S.'s largest trade deficit after China; but the U.S. has a trade surplus with Hong Kong, The Netherlands, and United Arab Emirates. According to usnews.com, the value of US energy export to Mexico surpassed that of import from Mexico, creating an energy surplus for the U.S. in 2016.
The impact of the U.S. market and its relation to Mexico, and visa versa, is intertwined with a complexity that renders an overview of different success factors. Foreign direct investment (FDI), multiple trade agreements, logistics, and low costs have enabled the rise in the Mexican manufacturing industry. To put into perspective, LMC automotive notes how many major U.S. automakers plan to manufacture 1 million more cars in Mexico by 2022. Mexico's proximity to large markets, like the U.S., Canada, and Central America, along with an established labor force and transportation infrastructure will prove to be beneficial for companies whether or not they're benefitting from free trade agreements.
Mexico's Free Trade Agreements
Although the U.S. is Mexico's largest trading partner and proximity is a great logistical benefit, Mexico still has various other free trade agreements. In fact, Mexico holds 13 free trade agreements with 45 different countries that gives it access to 60% of the world's GDP. Among other trade practices, the average applied tariff rate is 5% with an overall 73% value of exports and imports that applies to Mexico's GDP.
Mexico's Free Trade Agreements

Agreement/Partner(s)

Date of Signature

Panama

3 April, 2014

Pacific Alliance

(Chile, Peru, Colombia)

10 February, 2014

Central America (Costa Rica, El Salvador, Guatemala, Honduras and Nicaragua )

22 November, 2011

Peru (ACE 67)

6 April, 2011

Bolivia (ACE 66)

17 May, 2010

Japan

17 September, 2004

Uruguay (ACE 60)

15 November, 2003

European Free Trade Association (EFTA)

27 November, 2000

Israel

10 April, 2000

Chile (ACE 41)

17 April, 1998

European Union (EU)

8 December, 1997

Colombia

13 June, 1994

NAFTA (Canada, United States)

17 December, 1992
Overall, NAFTA's impact was influential, but did not independently change the market economy. Various treaties and programs also support foreign investment in Mexico, specifically in manufacturing. One of them is the Maquiladora program that was established in 1964, and has had some alterations that coincide with new policies since then. Currently, talks of accelerating trade deals with Brazil, as they prepare to open their auto-manufacturing market, and Argentina, are underway. Mexico is also seeking to update their free trade agreement with the European Union while the country also looks to add TPP member nations to the Pacific Alliance agreement (agreement with Chile, Peru, and Colombia).
Growth and Risk Forecasts: Investment
In 2016, Mexico's GDP was 2.3 trillion, better than Canada's (1.7 trillion) but much less than the U.S. (18.5 trillion). Mexico also had the highest GDP growth rate at 2.1% compared to the other two countries in 2016. A higher growth rate could signify a better propensity for investors to operate in an efficient production environment. It's not just manufacturing that will provide a high return on investment, but also energy. The 2013 energy reform began a process that opened the private market to the country and allowed investment into Mexican energy resources. In 2016 investor bids were opened to the energy market and many private companies took advantage of the opportunity. Investment in energy won't see profit for 5 to 7 years or until the first barrels come out of the fields, but energy investment will help regulate oil and other energy prices at market value to enable higher consumption rates and a better Mexican economy.
Current investment towards manufacturing in Mexico will help improve the country's economy, but uncertainties remain for the outcome of future growth. FocusEconomics.com states how "The rising uncertainty related to the unclear path that trade and immigration policies will follow during the Trump administration will continue to drive Mexico's future economic growth." But despite these concerns, along with threats towards NAFTA, there have been numerous instances where manufacturers lineup to operate in Mexico, leaving a small glimmer of hope for maintaining a consistent GDP growth rate for years to come.
Investment in Mexico's economy may also come at a time when the Mexican people are discontent with the state of the country and when corruption is returning as an issue. The current Mexican president Enrique Pena Nieto has seen a low approval rating throughout his term that has slightly risen as his actions against Trump in January prove to be more patriotic towards Mexico. The 2018 Mexican presidential elections might be swayed by a nationalist perception in an attempt to combat current global movements.
Frustration with the Mexican government is also attributed to the fluctuation of the peso. Over the past year, the Mexican currency depreciated 8% against the dollar, adding to the arsenal of reasons for ending NAFTA. But according to Bloomberg.com, if NAFTA were to end, the World Trade Organization would limit tariffs that either country tries to impose. Either way, these limits would still leave North American Countries with manageable markets.

Despite risks, Mexico's GDP is expected to grow 2.1% in 2018, and investment continues to flourish. The partnership between the U.S. and Mexico is a mutual cooperation where success for one country means the same for the other. NAFTA has made North America stronger on the global front, and Mexico's other free trade agreements provide an outlet for companies to link to the rest of the world. Although NAFTA is beneficial to the country's manufacturing industry, Mexico is a production hub with various trade agreements and a highly skilled labor force that connects manufacturers to the global market.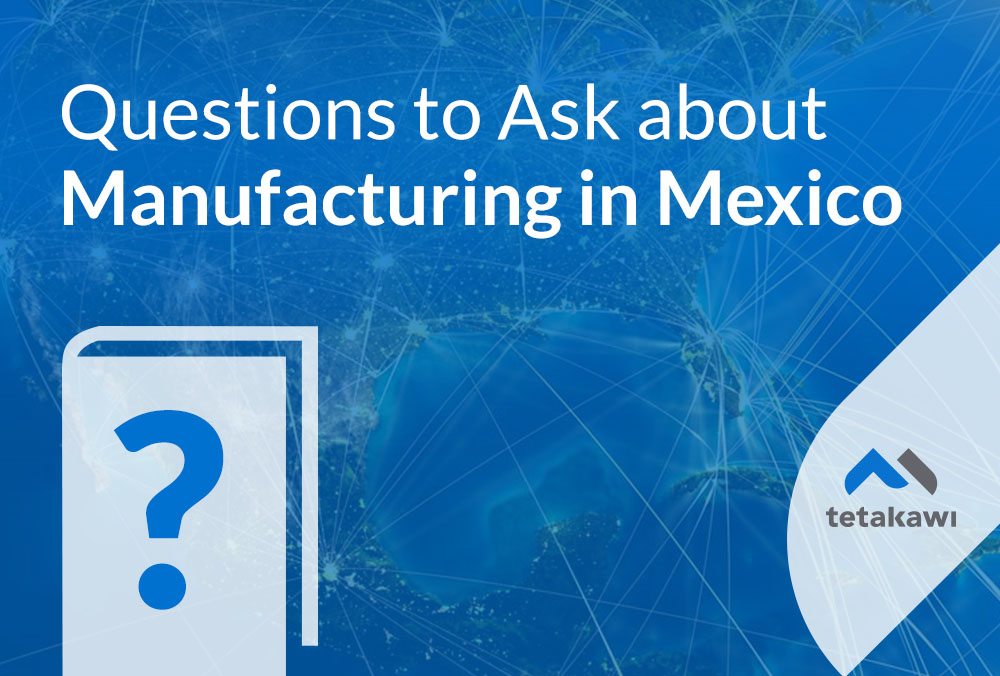 Start your journey into Mexico today!
50+ Questions to ask before expanding into Mexico
Thinking about expanding into Mexico? Step 1 of your due diligence process is answering all of these questions. Over the last 33 years, thousands of companies have used this guide to accelerate their expansion into Mexico.