Opportunity for Promotional Products Suppliers to Manufacture in Mexico
Business is tough, but right now the business of supporting other businesses with imprinted promotional products is even tougher. With a significant percentage of manufacturers supporting the $24.7 billion promotional products industry based in China, Chinese tariffs are leading industry suppliers to pass cost increases along to their customers.
Promotional products are a diverse makeup, including such products as wearables, playing cards, office products, travel bags, awards and much more. More than 40,546 companies, accounting for 489,065 industry jobs, put these products in the hands of businesses looking for a lasting way to get their brand in front of potential customers. It's a particularly effective strategy, given that consumers are becoming increasingly wary of traditional advertising. In fact, data from Promotional Products Association International indicates that promotional products provide a usefulness to consumers that makes them the most effective advertising strategy available.
However, low cost drives many sales in the market. With disruption coming from a range of sources even before the Chinese tariffs hit in 2018, savvy suppliers should consider a diversified manufacturing footprint.
How tariffs are hitting the promo products industry
The categories of products impacted by the tariffs that the U.S. began to impose in 2018 are wide-ranging but in many areas directly impact promotional products. For example, in September 2018 tariffs were levied on consumer goods including certain apparel items, travel bags, pencil slats and paper articles, as well as the base materials found in many other promotional industry items.
The U.S. continues to charge 25% tariffs on approximately $250 billion worth of goods imported from China. The Chinese government has retaliated by taxing U.S. exports, while reducing tariffs on competing products from other countries.
Meanwhile, President Trump has Terminated India and Turkey's status as beneficiary developing countries under the Generalized System of Preferences program, subjecting goods from those countries to higher duties. The Advertising Specialty Institute (ASI) reports that many promotional product suppliers have turned to India in particular in recent years to source apparel and other items, and these relationships are now coming at a higher cost.
While Mexico has faced its own threat of tariffs, the USMCA agreement and recent discussions on immigration have put the country in a far more economically favorable position with the United States. Promotional product industry experts have told AIS that "any future tariffs on Mexican products are not likely to have anywhere near the direct impact on promo that Trump's tariffs on $250 billion of Chinese imports have had."
Because most products sourced by U.S.-based promotional products distributors come from China, the ongoing trade war between the U.S. and China gives manufacturers and distributors alike excellent reason to explore a Mexican footprint for future operations. With its low cost of manufacturing and well-connected transportation infrastructure, Mexico can offer promotional products manufacturers, and their customers, a cost-effective alternative to sourcing from China.
Companies that have found diversified sourcing pays
Sourcing products from Mexico instead of China offers promotional products suppliers a number of benefits. In addition to relief from tariffs, Mexico's location helps significantly reduce costs. It costs $1,800 and takes one week to ship a 40-foot container to the U.S. from Mexico, compared to costs of $4,300 and a 5-week timeline to ship from China. And because the cost of labor in China has increased in the last decade, manufacturing labor costs in Mexico are projected to be approximately 19 percent lower than in China.
Diversification has proven effective for Tangerine Promotions. In fact, the name for Tangerine Promotions, headquartered in Chicago, was born on a beach in Mexico. Today, operations in Central America help keep the company strong in the face of price increases. The approximately $36 million subsidiary of Superior Group of Cos. cites a substantial China sourcing operation, but notes that multinational manufacturing operations has placed it in a steady position to succeed despite the pressure of tariffs.
Taylor Corp. follows a similar path. The Minnesota-based, family-owned company has more than 80 subsidiaries, including Promotional Imprints de Mexico in Nuevo León and Imprentas Unidas SA in Tepotzotlán. Today, Taylor companies serve more than 50 percent of Fortune 500 businesses.
The company notes that its Mexico printing operations' production, warehousing, inventory management and compliance expertise reduces customers' required on-site warehouse space. This gives customers agility that helps companies maintain their competitive edge.
The strength of diversification
For now, trade talks are set to resume between the U.S. and China, but there remains a great deal of global uncertainty. The value of diversification—whether through a broad supplier base or multinational manufacturing footprint—has proven time and again valuable in helping companies whether periodic storms.
For companies not sure how to take the first step, it's important to know that reaching into a new market should happen alone. Contact Tetakawi today to learn what resources are available to you.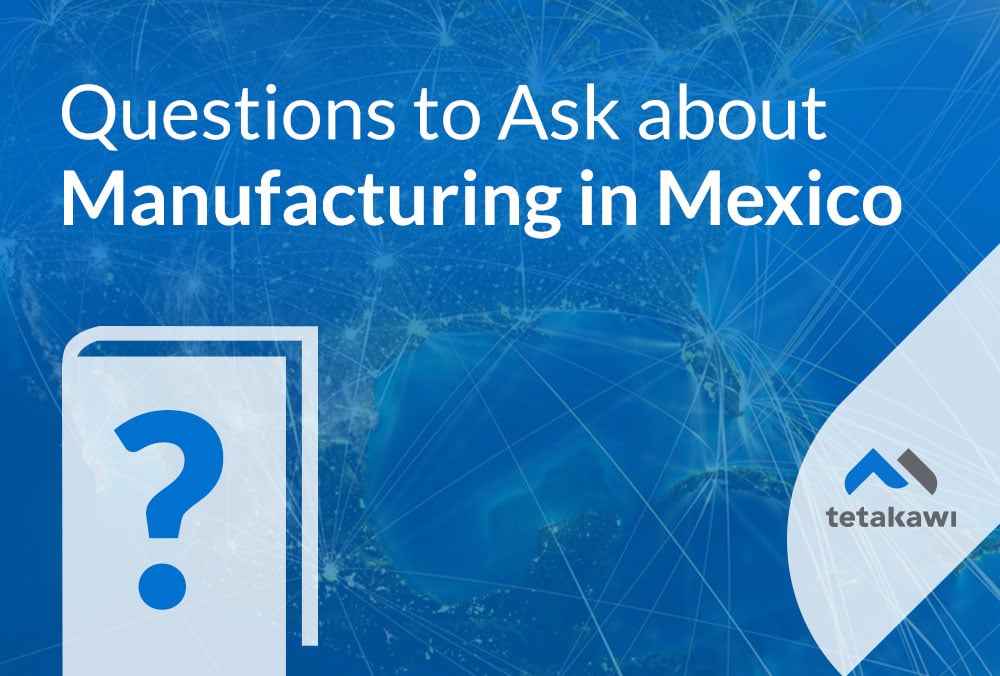 Start your journey into Mexico today!
50+ Questions to ask before expanding into Mexico
Thinking about expanding into Mexico? Step 1 of your due diligence process is answering all of these questions. Over the last 33 years, thousands of companies have used this guide to accelerate their expansion into Mexico.