Once the decision has been made to establish a manufacturing operation in Mexico, the next question is how to go about making it happen. Unlike many countries in which the only option is to establish a foreign subsidiary, Mexico's manufacturing shelter service industry offers a way to maintain full control of your production in Mexico without having to create a foreign legal entity.
The decision whether to use the services of a shelter company in Mexico or to go with the establishment of a standalone or fully owned subsidiary typically involves comparing the costs of one alternative method versus the other, coupled with assessing how quickly you want to start your operations in Mexico and the level of risk you're comfortable taking on.
What You Need to Begin Manufacturing in Mexico
To commence your manufacturing operation in Mexico, it is essential to understand the key components that contribute to a smooth and successful operation. One such crucial element that provides significant benefits to foreign manufacturers is the IMMEX program.
The IMMEX Program
Most foreign manufacturers will operate in Mexico under the IMMEX program (commonly known as maquiladora), which allows for the importation of equipment and raw materials on a tax–free basis as long as the final product is exported. A customs lawyer can take care of the Mexico IMMEX registration, and the ongoing customs monitoring and compliance process can be done either in-house by trained personnel or by an external firm. Under the IMMEX program, the company must establish an imputed price for all final products shipped out of the Mexico manufacturing facility back to the home company. This constructed fair market value is used as the assumed sale price to generate the gross profit margin for the Mexican production operation, which is needed for tax calculations. There are many Mexican accounting firms authorized to carry out transfer pricing studies and renew them on an annual basis.
After successfully navigating the technicalities of the IMMEX program, the next major step in your journey to successfully manufacturing in Mexico involves managing the day-to-day operations of your business.
Managing the Operation
A key to having manufacturing success in Mexico, as in most countries, is finding capable and productive human resources. The ability to find, train, and retain qualified personnel often means the difference between success and failure. A strong HR department is crucial to test employees, check their qualifications, perform background checks, negotiate with unions, create competitive pay and bonus programs, work with labor lawyers on labor claims, and more. The creation of an effective HR department will be critical to the success of a standalone Mexico manufacturing operation, as will payroll accounting services to track hours worked, vacation time, overtime, and the various mandatory benefits that must be processed through the federal and state authorities.
Other key functions include purchasing, transportation and logistics, regulatory compliance, and import-export document processing. Again, all of these functions can be carried out by qualified personnel either in-house or on an out-source basis.
Standalone Operation vs. Shelter Services
Now that we've covered the vital aspects of successful manufacturing in Mexico, such as leveraging the IMMEX program and establishing a robust workforce, the next question is: how do you effectively integrate these components? There are two primary paths to consider: the Standalone route, where you establish your fully operational entity or the Shelter route. Below we will explore both options so you can determine what makes the most sense for your company.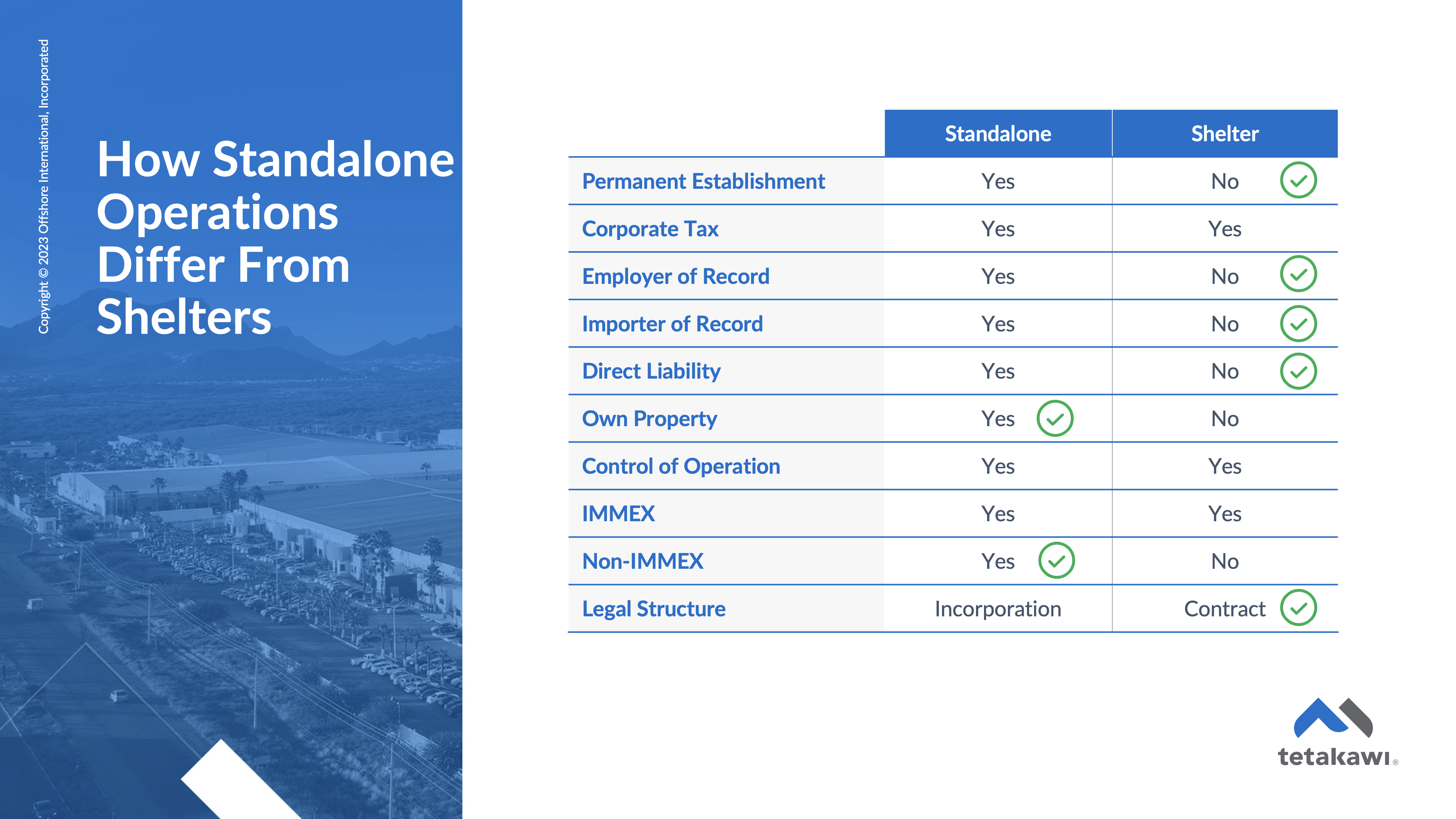 Standalone Manufacturing in Mexico
Setting up a standalone manufacturing operation in Mexico is a common approach, particularly for larger manufacturing companies anticipating a Mexican workforce of over 750 employees. In this model, your organization forms a legal subsidiary in Mexico, a process that can be managed with the assistance of local legal experts. This approach provides your company with more direct control over the administrative side of doing business in Mexico and management of the workforce.
Accounting responsibilities, a critical aspect of the operation, can either be managed internally, which might require hiring and maintaining a dedicated accounting team, or they can be outsourced to an external firm with expertise in Mexican tax laws and business operations. These tasks are not trivial, encompassing monthly provisional tax declarations that need to be prepared and filed, various annual reporting requirements such as foreign investment filings, and other regulatory compliance duties.
However, it is important to understand that establishing a standalone legal entity in Mexico involves significant upfront, one-time legal and accounting costs. These can include costs related to registration, licensing, setup of accounting systems, and possibly the hiring and training of local staff. Additionally, ongoing costs such as regulatory compliance, payroll management, and maintaining legal status would also need to be factored in.
Moreover, managing a standalone operation requires a strong understanding of local labor laws, customs regulations, environmental compliance, and other administrative duties. This may require additional resources and expertise to ensure adherence to all local regulations and to maintain good relationships with local authorities and communities.
Given these considerations, it is crucial to conduct a thorough evaluation to determine whether a standalone operation is the most beneficial option for your company. This should include an analysis of your company's size, resources, expansion strategy, and tolerance for risk, among other factors. Understanding the specific needs and capabilities of your organization will help you make an informed decision about the best way to establish your manufacturing operation in Mexico.
Mexican Shelter Service Companies
Contrasting with the standalone model, a Mexican shelter service company serves as a comprehensive solution, assuming responsibility for a range of services. This model allows a foreign manufacturer to enter the Mexican market as a division of the shelter company, which already possesses the IMMEX license. As a result, the necessity to establish a separate Mexican entity, along with the associated legal and accounting services, is generally eliminated, both upfront and throughout the operation.
At the core of an effective Mexican shelter company is a robust human resources department. These entities typically house an experienced team of HR professionals with specialized skills in recruiting diverse manufacturing personnel, from plant managers to basic operators. Given their wide-ranging client portfolio, many shelter companies are capable of leveraging economies of scale, thereby extending their recruiting capabilities while simultaneously reducing costs. As the foreign manufacturer lacks a separate legal entity in Mexico, all personnel are employed and compensated by the Mexican shelter company. Nevertheless, the manufacturer maintains complete control over operations. The plant manager typically communicates directly with the foreign headquarters and is responsible for nearly all personnel decisions. Some Mexican shelter companies also provide an additional benefit: the ability to transfer excess employees between different clients within the shelter organization, potentially reducing or negating the need for mandatory severance payments to terminated employees.
A key advantage for Mexican shelter operators often lies in their extensive roster of clients and contracted employees. For a foreign manufacturer with a workforce numbering in the hundreds or fewer, matching the level of expertise provided by a shelter company – an entity adept at managing the non-core functions of numerous manufacturers and thousands of employees – could prove a considerable challenge.

In light of these factors, it is paramount to perform an exhaustive evaluation to ascertain if utilizing a shelter service company is the optimal choice for your business. This evaluation should encompass an analysis of your company's size, resources, expansion plans, risk tolerance, and more. Grasping the distinctive needs and capacities of your organization will aid you in making a well-informed decision about the most suitable manner to establish your manufacturing presence in Mexico.
Manufacturing Costs in Mexico: Standalone vs. Shelter Company
Having outlined the distinguishing features between shelter services and standalone operations, we can now delve deeper into how to perform a cost comparison.
Mexican shelter companies manage a broad array of non-core yet essential functions. When considering between utilizing a shelter service provider or establishing a foreign subsidiary, the primary decision lies in comparing the service fees of the shelter company and the standalone costs of performing the same operations. This comparison can be a complex process. The cost structure of a Mexican shelter company might be readily apparent, but the standalone cost depends on the division of services, such as HR and purchasing, that will be managed in-house, and services like legal, accounting, and regulatory compliance, that will be outsourced. Questions to consider include: What would be the required workforce and their compensation if services are managed internally? If services are outsourced, how would the fee structure of the shelter services be designed?
Remember, no two shelter companies are exactly the same. The crucial factor in a fair comparison is to ensure that all the services provided are itemized and correctly valued. It's important to note that there are significant initial, one-time legal and accounting expenses associated with setting up a standalone legal entity in Mexico, which can be bypassed by using a shelter provider. In numerous situations, particularly when the total employee count is less than several hundred, the shelter provider often turns out to be the more economical option. Nevertheless, every operation is unique and warrants its own separate evaluation.
Beyond just the financial considerations, many manufacturers favor allowing a shelter provider to manage the non-core administrative tasks so they can focus their attention on the manufacturing process. They aim to prevent their plant managers from being overwhelmed with issues such as customs, tax challenges, labor disputes, and import transactions. Instead, they would rather have their upper management concentrate on maintaining and improving production quality and quantity. A comprehensive comparison of Mexican manufacturing shelter services versus a foreign subsidiary should include an evaluation of this factor as well.
If the advantages of operating via a shelter service provider have sparked your interest and you're keen to learn more, we invite you to get in touch with us for a free Standalone vs. Shelter cost analysis. In this analysis, we will break down the costs associated with each option in detail, allowing you to make an informed decision.
Subscribe
Sign up and stay informed with tips, updates, and best practices for manufacturing in Mexico.