Manufacturing Technology in Mexico
Manufacturing has become an increasingly tech-driven field, and Mexico's factories are keeping pace with the technology adoption and innovation reshaping this industry. From its highly trained workforce to infrastructure investments, Mexico's manufacturing sector is technologically advanced and able to support increasingly complex output.
In fact, the World Intellectual Property's Global Innovation Index ranks Mexico higher on its list each year, driven in part by the country's creative and technology output and its high-tech manufacturing. This output can be seen in exports across a range of industries, from high-tech electronics manufacturing to complex medical device manufacturing, to the fast-evolving nuances of automotive and aerospace manufacturing. Innovation is also increasingly evident in the places where this manufacturing occurs, as factories across Mexico adopt Industrial Internet of Things (IIot) solutions and Industry 4.0 principles.
Smart factories in Mexico
Big manufacturing names have brought IIoT solutions to Mexico, creating smart factories where data from machinery and equipment can be rapidly analyzed to improve automation.
Examples of these high-tech companies include sensor powerhouse Schneider Electric, whose factory in Monterrey, Nuevo Leon, won the state's Nuevo León 4.0 Award in 2019 and 2020. The factory uses the company's IoT-enabled EcoStruxure platform to increase process efficiency and overall market competitiveness. The connected solution reportedly helped improve manufacturing performance by 10%, optimized energy consumption by 10%, and improved worker safety by 15%.
Bosch, which has manufactured sensors and other electronics in Mexico since 1955, developed its second automotive electronics plant in Mexico as a smart factory. Part of the company's USD $120 million investment in Apaseo el Grande, just outside of Queretaro, goes toward intelligent production lines that will collect and share real-time product information and support preventive maintenance.
Automaker Audi opened in San José Chiapa, Puebla, in 2016 what it called one of the most advanced factories in the world. By fully simulating plant operations, the company was able to optimize the process chain and improve plant operation by 30% compared to other factories around the world. To train an influx of more than 4,000 employees on the advanced controls in the factory, the companies also located a training center on-site.
Factors supporting Mexico's tech growth
Technological innovation is happening faster than ever and better connecting people around the globe. Not every country is keeping pace, but Mexico has put several initiatives in place to support smarter processes and more connected manufacturing technology.
1. Education investment
To support incoming foreign investment, many Mexican states have invested in creating a skilled workforce pipeline.
Malabika Mandal, Visionary Innovation Industry Analyst with Frost & Sullivan, notes in the company's report, Future of Mexico—Global Hub for Innovation and Investment, Forecast to 2025, that "Mexico's focus on education to create a talent pipeline for researchers and attract foreign investment, and growing start-up business support mechanisms are fostering a culture of innovation."
The Organization for Economic Cooperation and Development noted in its 2019 report on education in Mexico that the country has made significant progress in increasing educational attainment across the board. The report notes that government efforts to improve the quality of early childhood education and its introduction of compulsory upper secondary education in 2013 have been effective in raising this rate. Higher education institutions have also worked to increase their rates of graduates by broadening their missions, geographical coverage, and distance learning offerings.
However, many young adults pursue jobs in manufacturing by way of a technical training center. State- and manufacturer-supported training centers develop the talent they need to tackle increasingly complex manufacturing tasks. It provides companies with the skillsets they need and connects workers with experience and high-paying jobs.
Mexico prioritizes educational attainment, as it stands to have a significant impact on the overall economy. The Frost & Sullivan report notes that continuing to increase investment in R&D and education, Mexico's economy stands to gain more than $245 billion in cumulative GDP growth from 2018 to 2025.
2. Infrastructure development
Mexico is already extremely well connected to the U.S. and global economy when it comes to exporting goods. Its array of highways, railways, international airports, and deep-water ports help move goods quickly to markets. Now, in response to the manufacturing sector's evolving needs, the Mexican government has taken steps to improve technology-based infrastructure and connectivity around the nation. As recently as Oct. 2020, President Andrés Manuel López Obrador presented a package of 39 infrastructure projects to complete in conjunction with the private sector. This approximately MXN $300 billion investment would work to improve the communications, energy, and water sectors.
"Higher technology investment by the government and pro-private investment schemes will position Mexico as a viable innovation hub for emerging technologies such as Artificial Intelligence (AI), IoT, and cybersecurity," Mandal suggests.
Frost & Sullivan's report further notes that an increase in Millennials and Gen Z cohorts, set to make up 45% of the total population by 2025, will help drive this surge in technology development. According to the report, more than 90% of Mexican Gen Z will use the internet by 2025, generating a massive surge in communications connectivity.
3. Embracing Industry 4.0
A World Economic Forum white paper, The Impact of COVID-19 on the Future of Advanced Manufacturing and Production Insights, notes that the coronavirus pandemic has underscored the need for the international manufacturing sector to adopt Industry 4.0 technologies. These technologies, supported by human engineers, use new influxes of data to optimize all manner of processes.
According to the report, "The agility enabled by such technologies has allowed early adopters to see the benefits of their investments as they have pivoted more quickly and smoothly during the disruptions created by COVID-19. Such examples of resilience and adaptability are likely to lead to an acceleration of the adoption of advanced manufacturing technologies and processes as companies look to adjust to the emerging "new normal.'"
Mexico has seen just how valuable this agility can be. Frost & Sullivan also predicts that the Mexican IIot market will grow from $1.6 billion in 2018 to $4.0 billion by 2022, at an approximate CAGR of 25.6%. IIoT connectivity is one key aspect of Industry 4.0 adoption and a key driver of more streamlined and efficient manufacturing processes.
Preparing for the future
Mexico is actively committed to making the country the first choice for manufacturers looking to make their processes more agile, efficient, and cost-effective. This includes taking steps to prepare for the future, and the greater connectivity that will be required in manufacturing processes. While this connectivity may vary across the nation, many of its manufacturing centers are on the edge of technological capability.
If you're ready to find the location that could provide your manufacturing operation the right balance of skilled workers, research and training capabilities, and infrastructure, Tetakawi can help. Contact us today.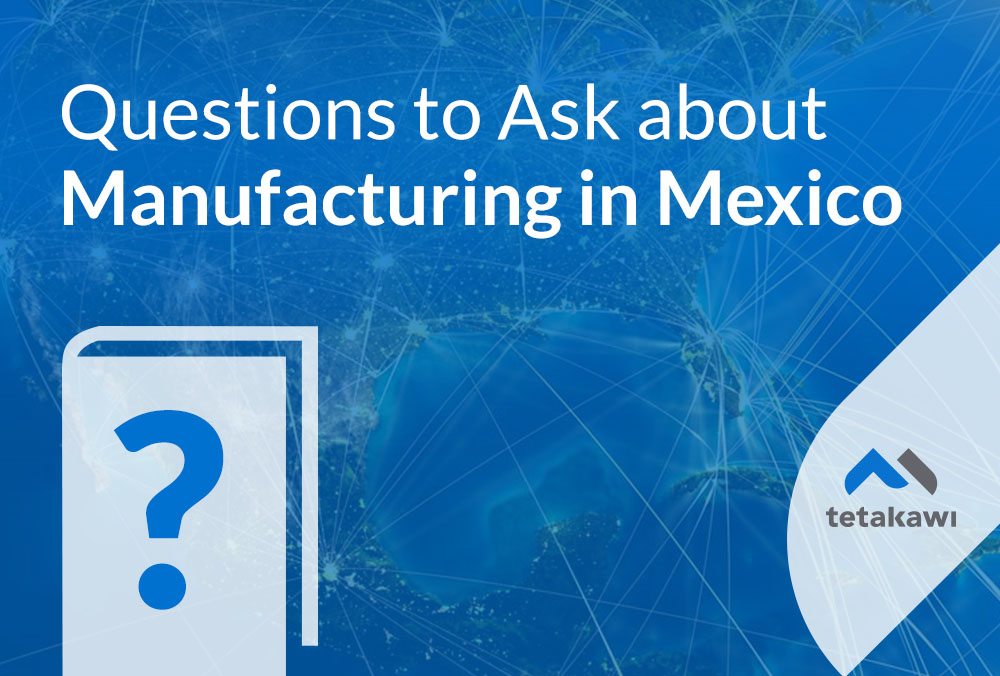 Start your journey into Mexico today!
50+ Questions to ask before expanding into Mexico
Thinking about expanding into Mexico? Step 1 of your due diligence process is answering all of these questions. Over the last 33 years, thousands of companies have used this guide to accelerate their expansion into Mexico.