Powering the automotive, aerospace, medical device, and electronics manufacturing industries across Mexico is a strong foundation for wire harness manufacturers. The low-cost process of creating the sheaths that bundle and protect wires from friction and environmental damage has grown into a booming industry in Mexico, primarily due to the growing demand from industrial end-users.
Consider the demand from the automotive industry alone. Today's vehicles have increased in electronics complexity to the point that many cars contain more than 150 pounds of wiring. Thousands of part numbers might go into a single vehicle's wiring harness. Yet these complex components in harnesses are still largely assembled by hand in Mexico's shelter services industry. As a result, reducing the manufacturing cost of wire harnesses becomes critical in maintaining affordability in the end product.
That's where Mexico comes in. Mexico's highly skilled labor is up to 70 percent cheaper than the cost of labor in the United States. While unskilled laborers often seek work in the manufacturing industry, 115,000 engineers graduate from Mexico annually. In addition, the infrastructure supporting these Mexico-based operations is both modern and affordable. With this level of support—and the incredible projections for industry growth—it's no wonder that more wire harness companies are moving manufacturing to Mexico.
Position to meet growing automotive demand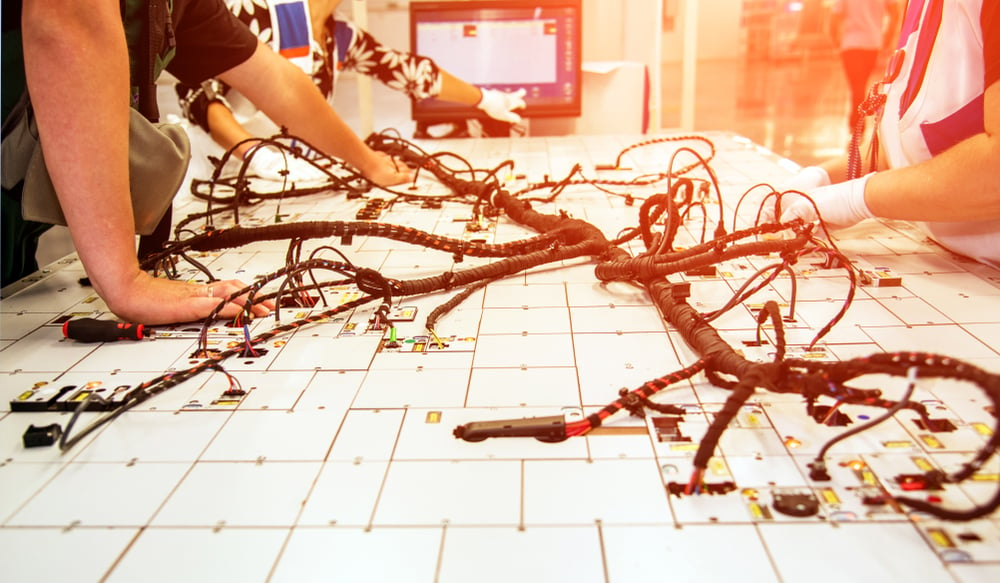 Overall, experts expect that wire harness manufacturing will grow at a CAGR of 11.9% from 2017 through 2022, reaching about $22.9 billion USD. Some of this growth is the result of increasing global demand for luxury vehicles as well as electric vehicles (EV), which require more wiring and more sophisticated harnessing technology.
Bloomberg reports that sales of passenger EVs grew from 450,000 in 2015 to 2.1 million in 2019. Even with an expected drop in 2020, Bloomberg projects demand will continue to grow in the long term as batteries become more affordable, and charging infrastructure becomes more widely available.
"The wiring harness business is going to grow a great deal," predicts Oscar Albin, president of Mexico's National Auto Parts Industry Association (INA). And that growth is likely to be centered in Mexico, which Albin calls "king in the NAFTA region at producing wiring harness."
According to CNN, 70% of wire harnesses that power a vehicle are made in Mexico. That will only grow as updated rules of origin clauses take hold under the recently ratified USMCA. Under USMCA, an automobile's regional value content (RVC) must meet a threshold of 75% North American content, up from 62.5% under NAFTA. Automotive parts thresholds rise to between 60% and 75% North American content, compared to between 50% and 60% under NAFTA. That includes 65% of complementary parts, such as wire harness sets, that will need to originate in North America.
This projected demand is driving many companies to expand operations in Mexico, where strong industrial clusters already exist. For example, in 2017, Delphi Technologies spun off a separate automotive electronics company from its Delphi Automotive brand. The new brand, Aptiv, extends Delphi's 41-year presence in Mexico in a new direction. "We are paving the way towards full electrification with our comprehensive technology portfolio," commented Delphi (now Aptiv) CEO Liam Butterworth at the time.
Today the company is leading the global automotive wiring harness industry from 31 manufacturing plants and four technical centers in Mexico, among other international locations. The company's Mexico Technical Center in Ciudad Juárez is among its largest research and development facilities. The workforce at the automotive engineering center designs and builds prototypes, and conducts tests, evaluations, verifications, and validations for hundreds of products.
Industrial clusters support sector growth
However, the automotive industry isn't the only sector driving up demand for wire harness manufacturing in Mexico. Thomas Sparrvik, CEO of Patro, a wire harness and cable assembly provider, says, "The demand for air travel is increasing along with the growing demand for procurement of newer generation aircraft and the subsequent need for electrical wiring harness and custom cable assemblies."
The company recently secured a $4 million contract to manufacture wire harness and cable assemblies for a game-changing private jet manufacturer from its Tijuana facility. The client turned to Papro for its FAA approval, scalable production and industry certifications.
The growing medical devices market is also driving demand. For example, in 2018 Nortech Systems built a new facility in Monterrey to double its ability to produce wire harnesses and cable assemblies for medical and industrial clients.
Make the most of Mexico's manufacturing benefits
The high concentration of manufacturing operations across several industries allows companies considering doing business in Mexico to make use of established infrastructure and robust supply chain networks. In fact, the economies of scale possible from these industrial clusters are one of the top advantages of manufacturing in Mexico.
The ease of exporting from Mexico is another benefit. Mexico has more Free Trade Agreements (FTAs) than any other country in the world, reducing many barriers to trade. In addition, the federal and state governments encourage foreign direct investment through benefits such as the IMMEX program, which eases entry into Mexico. Access to shelter services through the maquiladora system further simplifies the process of launching a wire harness manufacturing operation in Mexico.
To learn how you can best benefit from manufacturing in Mexico, contact Tetakawi today.
Subscribe
Sign up and stay informed with tips, updates, and best practices for manufacturing in Mexico.