Why Innovative Manufacturers Operate in Queretaro
The city of Queretaro, and the small Mexican state of the same name, is home to one of Mexico's most robust advanced manufacturing industries, and the state government is working to capitalize on this edge. The area's investment in advanced manufacturing truly exploded around 2006 when Bombardier invested in a manufacturing facility and educational institution that has since attracted a number of other manufacturers and additional infrastructure.
Today companies considering manufacturing in Mexico find that Queretaro provides a well-connected central base from which to operate and innovate. As the only region in Mexico with global investment grade, per S&P Global's AA+ rating, it's become among the most highly competitive locations from which to manufacture in Mexico. In the first six months of 2021 alone, foreign direct investment in Querétaro reached USD $342 million. Equally as important, the city is a safe, vibrant base for the thousands of foreigners who work and visit plants in the city.
Below we'll explain how manufacturers moving to Queretaro, Mexico, can benefit from the state's investment in training, research and innovation.
Manufacturing industries in Queretaro, Mexico
Queretaro's industrial clusters are important as this heavy investment in specific regions attracts Tier 1 and Tier 2 suppliers, an abundance of training programs, and infrastructure investments. The state is best known for its strong automotive and aerospace industrial clusters.
In 2020, Queretaro exported more than USD $3 billion in motor vehicle parts and accessories, its highest category of exports. It's no wonder, as the local automotive cluster includes more than 100 Tier 1 and 200 Tier 2 manufacturers. The state is also home to the country's first automotive university, the Center for Innovation and Automotive Development (CIDEA), located within Queretaro Polytechnic University and run in connection with German-based automotive supplier Brose.
However, Queretaro may be best known for its fast-growing aerospace expertise. The state is home to some of this industrial sector's largest players, including Bombardier, Airbus, Safran, and Delta. Bombardier celebrated 15 years in Querétaro in 2021, and marked at that time the completion of its 100th rear fuselage for the company's flagship Global 7500 jet. The Bajío region, including Queretaro, has among the highest level of aerospace investment in the world, with more than 80 relevant companies operating here. The Aeronautics University of Queretaro supports much of the workforce development for this sector.
Queretaro is growing as a research and technology hub
Given the state's substantial investment in cutting-edge manufacturing, it's perhaps no surprise that Queretaro is also growing a reputation as a center for research and technology development. On a broad scale, the Bajío region is home to more than 100 centers of research and development, making Queretaro an excellent place to locate to pair the benefits of research and development expertise with skilled manufacturing and assembly labor.
The state is poised to become a hub for Industry 4.0 in the region. Its sustainable development secretariat, SEDESU, has championed a program for investing in the development of technology and innovation, known as Pedeti 2020. The Regional 4.0 Productivity Center, Ceprodi 4.0, is working to boost the competitiveness of industries in Mexico through Industry 4.0, big data, Internet of Things, and cloud computing expertise. The program, created through an alliance between the Mexico-United States Foundation for Science (FUMEC), the government of Querétaro and the Technological University of Querétaro (UTEQ), is focusing on the automotive, aerospace, plastics and metalworking sectors.
The state is also home to a 3D and advanced manufacturing program, ConMad, an alliance between the Center for Engineering and Industrial Development, General Electric, the Center for Advanced Technology, the Center for Research and Advanced Studies of the National Polytechnic Institute, and SEDESU.
In addition, UL, a global leader in safety science, has announced that it will open a new laboratory in Queretaro in 2022. The lab will provide critical testing, certification and engineering services to speed the approval and sale of automotive, electronics, engineered materials, retail and technology goods.
The location benefits of manufacturing in Queretaro
While the northern border states of Mexico were once the go-to location for foreign investors, due to their easy accessibility to the United States market, that has changed. Today, more industries are opting to locate manufacturing factories in Mexico in central locations like the Bajio region. There are several reasons for this shift. First, it provides some cost savings compared to the significantly higher real estate costs and wages of the border states. A Class A building in Tijuana might average around $0.58 per square feet per month or $0.45 per square foot per month in Monterrey. The asking price for the same building in Queretaro is likely to be closer to $0.42 per square foot.
Second, this central location provides better connectivity to both North and growing South American markets. From its place just over 500 miles from Texas Queretaro's central location is easily connected to all potential markets via highway and rail transit networks and the Queretaro Intercontinental Airport.
Queretaro makes an excellent place to live and work
An investment in manufacturing sector-specific training is part of what makes the Queretaro labor force stand out. However, the region also has the advantage of being home to an economically active population of 1.05 million people, with 45 million people living within a 215-mile radius. The state government reports that more than 60 people arrive in Queretaro each day, providing a strong demographic to support future manufacturing growth.
In addition, the state government has prioritized development of a skilled labor force to attract foreign direct investment in manufacturing. As part of this effort, the state is home to 28 technical high schools, 13 technical universities, 74 higher education institutions and 39 postgraduate institutions. Since 2006, the Aeronautic University of Queretaro has matriculated more than 8,000 graduates through its technician, engineering, and Master's degree programs. In addition to its automotive program, UPQ trains students on technology for manufacturing and computer science engineering. More than 50 public and private R&D centers help drive innovation in support of complex manufacturing processes.
While many states support industries in Mexico with training and infrastructure support, what perhaps best sets Queretaro apart is its reputation for providing residents an excellent quality of life. Queretaro is recognized as one of the safest cities in Mexico and offers a culturally rich and vibrant atmosphere that many foreign employees find appealing. The state also provides education options for foreign nationals, including 15 international schools for American, Canadian, French, and German nationals.
Be part of Queretaro's growing manufacturing sectors
As of 2020, Querétaro saw international sales of USD $9.38 billion, a 15.5% increase over the previous year, and there seems to be no end in sight to the area's growth. Now is the time to launch a factory in Queretaro, Mexico, and begin leveraging synergy from partners in the region.
To make investment in the region more attractive still, the state may offer incentives to interested investors. Working with a partner like Tetakawi can help manufacturers better negotiate for the types of financial incentives that have attracted so many companies to Queretaro, Mexico.
To learn more about a factory in Queretaro, Mexico, might be right for your organization, contact Tetakawi today.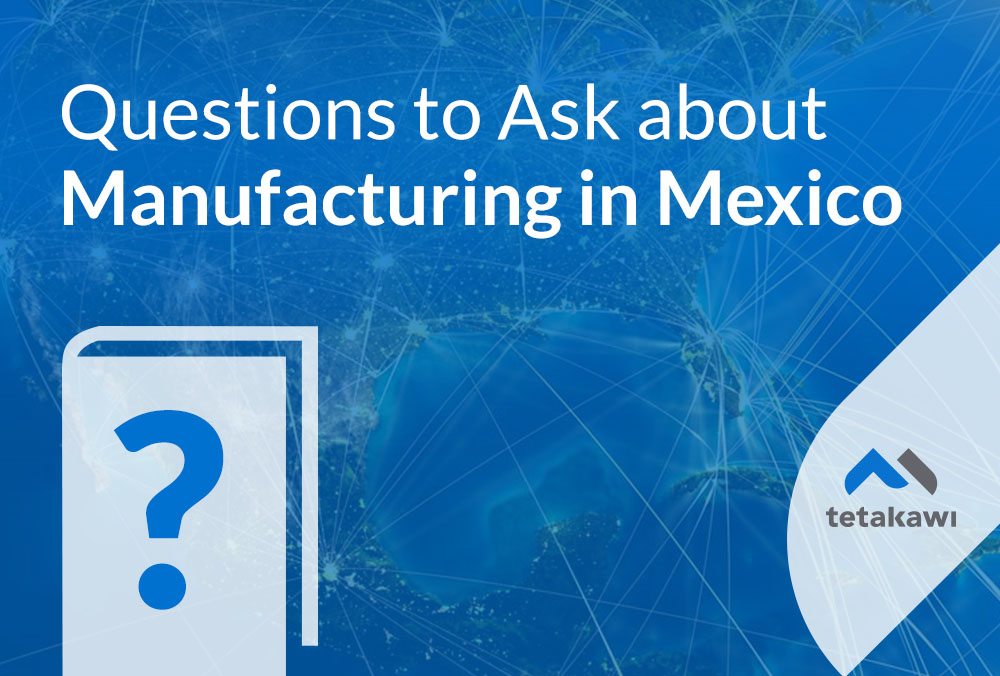 START YOUR JOURNEY INTO MEXICO TODAY!
50+ Questions to ask before expanding into Mexico
Thinking about expanding into Mexico? Step 1 of your due diligence process is answering all of these questions. Over the last 33 years, thousands of companies have used this guide to accelerate their expansion into Mexico.