6 Key Factors Driving Plastic Manufacturing Growth in Mexico
Plastics manufacturing stands poised for tremendous growth, with Grand View Research projecting market sector expansion from 2021 through 2028 at a compound annual growth rate (CAGR) of 3.4%. New innovations and product performance expectations across a wide range of industries are creating tremendous opportunities for plastic suppliers.
Although Mexico produces more than 4 million tons of various resins annually, the country's plastic product manufacturers tend to rely heavily on raw materials imported from the United States. This makes Mexico's duty-free temporary imports a particularly attractive benefit for U.S.-based manufacturers operating in Mexico.
While manufacturers of all types can enjoy cost benefits from operating in Mexico, plastic component manufacturers in particular may find ample opportunities due to the fact that plastics manufacturing supports a number of leading industries in Mexico. Below are six trends fueling plastic factory demand in Mexico.
1. Automotive mandates
Automotive manufacturers have been exploring a number of new applications for plastics in order to meet the demand for lighter weight vehicles. Less weight means greater fuel efficiency, making plastics a key part of future vehicle production. When used in automotive applications, plastics can enable approximately 80% weight savings—and 30% to 50% cost savings—in individual components.
Given the fact that automotive manufacturing serves as Mexico's top manufacturing sector, it's no surprise that manufacturers would want to position plastic factories near the country's leading OEMs. This demand is also the reason that companies like Eissmann Automotive KTSN GmbH, a German manufacturer of interior components, are acquiring plastic suppliers. In April 2021, Eissmann completed its acquisition of Minda KTSN Plastic Solutions, including its location in Queretaro, Mexico, to support its position as a systems solution provider. It is also the reason Italian-based MPE relocated its Mexican plant to a larger facility in Guanajuato in 2019. This relocation was to support injection molding for more lighting, steering, and transmission components. Mexico's growing automotive sector will only drive greater demand for lightweight plastic components.
2. Medical device demand
Plastics are increasingly finding their way into medical device manufacturing as manufacturers find new ways to replace corrosive metal parts with plastic injection molded components that provide greater design flexibility and longevity in critical applications. Companies like Molded Devices Inc., with operations in Coahuila, use injection molding technology to produce single-use medical devices, critical tubing, and medical balloons.
Of course, this sector as a whole is also seeing greater demand due to needs driven by the COVID-19 pandemic. This new driver is also encouraging innovation among plastic suppliers and in the way these plastic pieces are made. For example, Technimark, an injection molding company, with Mexico facilities in Guanajuato, Juarez, Reynosa Tamaulipas, and Baja California, developed an injection molded polypropylene nasal swab specifically for more effective and comfortable COVID-19 testing. The company has been printing 80,000 nasal swabs each day and is expanding upon its additive manufacturing technology to develop more swabs at a lower cost.
COVID-19 has also driven new companies to move into this market segment. For example, many automakers and other manufacturers pivoted production at plastic factories in 2020 to make critical medical goods ranging from personal protective equipment to ventilators. For some, these temporary production changes may prove profitable enough to become permanent.
3. Appliance production uptick
Mexico is a hub for appliance manufacturing. In fact, it's the second largest exporter of such devices to the United States. As demand for home remodeling and appliances grows for the foreseeable future, it's also driving demand for the plastic components that house these appliances. Given Mexico's strong electronics manufacturing industry, plastic suppliers located here gain the benefit of tremendous synergy.
Companies like Michigan-based plastics extruder Custom Profile are responding by expanding production capacity and warehouse space. Custom Profile expanded its Juarez, Mexico, operation by an additional 27,500 square feet, bringing its total footprint to 77,500 square feet. The Juarez plastic factory provides tubing and profile extrusion, over molding, and assembly in support of the home appliance market.
4. Expectations for more protective packaging
Within the plastics market sector, Grand View Research expects polyethylene to continue to see the greatest growth. It's the material of choice for the packaging sector, including plastic bags, bottles, and films. These products have long been indispensable, but are expected to see greater demand as a result of the new expectations around cleanliness driven by the COVID-19 pandemic. Packaging is being more widely monitored on healthcare products, groceries, and other materials to restrict contact with germs.
In Mexico, the packaging industry is expected to grow from 122.2 billion units in 2019 to 137.5 million units in 2024, with a CAGR of 2.4%. Change in consumption behavior is projected to drive greater demand for convenient, on-the-go and portable packs and, consequently, the demand for rigid plastics packaging.
5. Infrastructure demand
The Global Infrastructure Hub sees a worldwide need for infrastructure investments to the tune of $94 trillion USD. Plastics are increasingly seen as indispensable in developing more lasting solutions to infrastructure needs, and plastic suppliers are being called upon to innovate in the types of solutions they provide.
It's the reason pipe extruder Policonductos SA de CV in San Luis Potosí invested in the world's largest adjustable melt gap for pipe dies. The solution provides dimensional flexibility that allows the fabricator to produce pipes across a wide range of diameters, including custom specifications, upon the same line.
6. Sustainability trends
Sustainability is a growing focus for plastics companies. Because of plastics' strength and durability, it's often used as a sustainable replacement for conventional construction and infrastructure materials such as pipes, cables, windows, and storage tanks, among other materials. Of course, the recyclability of plastics is another facet of this growing emphasis on sustainability, and it's impacting manufacturing methods and driving new opportunities in plastics production.
There's growing demand for biodegradable plastics made of plant-based materials that supports easy decomposition. For example, researchers from the University of Valle de Atemajac in Zapopan, Mexico, recently developed a biodegradable plastic solution from the juice of the prickly pear cactus. The material is designed to breaks down within a month when left in the soil, or decompose within days if left in the water. Monterrey-based Biofase uses avocado seeds to manufacture biopolymers that are developed into biodegradable plastic straws and cutlery. Along with Ford Motor Co. testing the use of agave fiber-based bioplastics for use in components such as storage bins and wiring harnesses. The fibers are the waste product of the agave used in Jose Cuervo's tequila production process.
Find the right opportunity
More than 4,000 companies have already established plastic factories in Mexico across Coahuila, Sonora, Jalisco, Nuevo León, Puebla, Querétaro, Guanajuato, San Luis Potosí, and Mexico City. The widespread footprint of these companies is the result of meeting demand for a broad range of applications. As a result, identifying the right location for a plastics manufacturing operation in Mexico depends upon insight into the local providers, workforce experience, and competitive presence.
This is the type of insight that can be gained with a custom site analysis from Tetakawi. Plastics manufacturers also select Tetakawi to provide the turnkey organizational and administrative support that allows manufacturers to operate confidently in Mexico. If you're ready to make a move, contact Tetakawi today.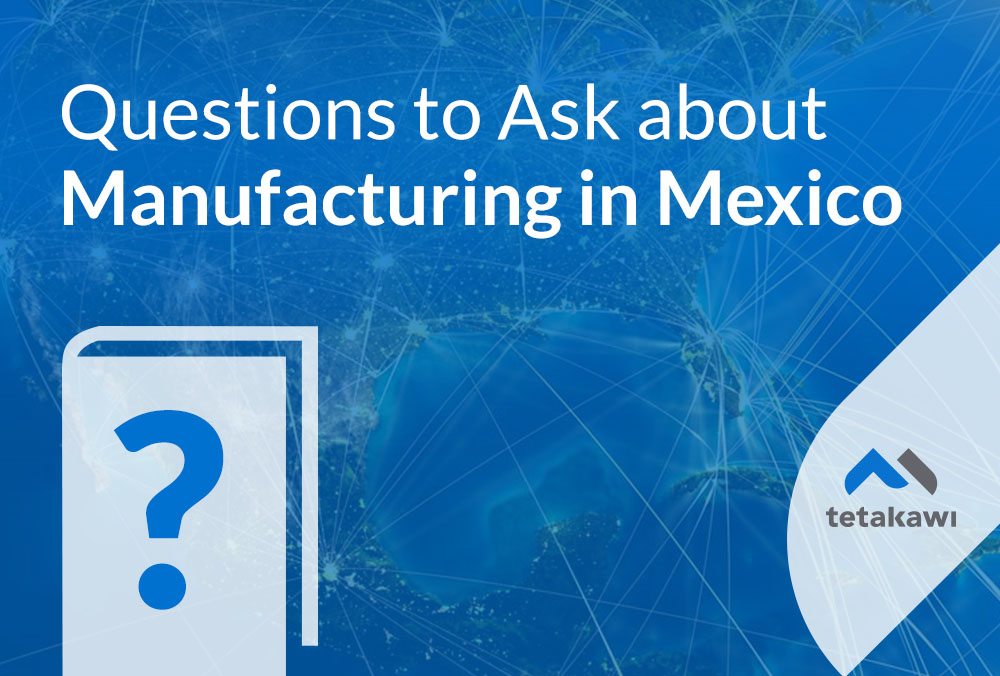 Start your journey into Mexico today!
50+ Questions to ask before expanding into Mexico
Thinking about expanding into Mexico? Step 1 of your due diligence process is answering all of these questions. Over the last 33 years, thousands of companies have used this guide to accelerate their expansion into Mexico.