If your company has decided to launch a manufacturing operation in Mexico, you may be wondering how to get started. Though the process may seem complex, the easiest way to get up and running as a foreign company in Mexico is to use the shelter service model. In this post, we'll explore its many advantages, discuss how to choose a provider, and cover everything you need to know about shelter services in Mexico.
What is a shelter company in Mexico?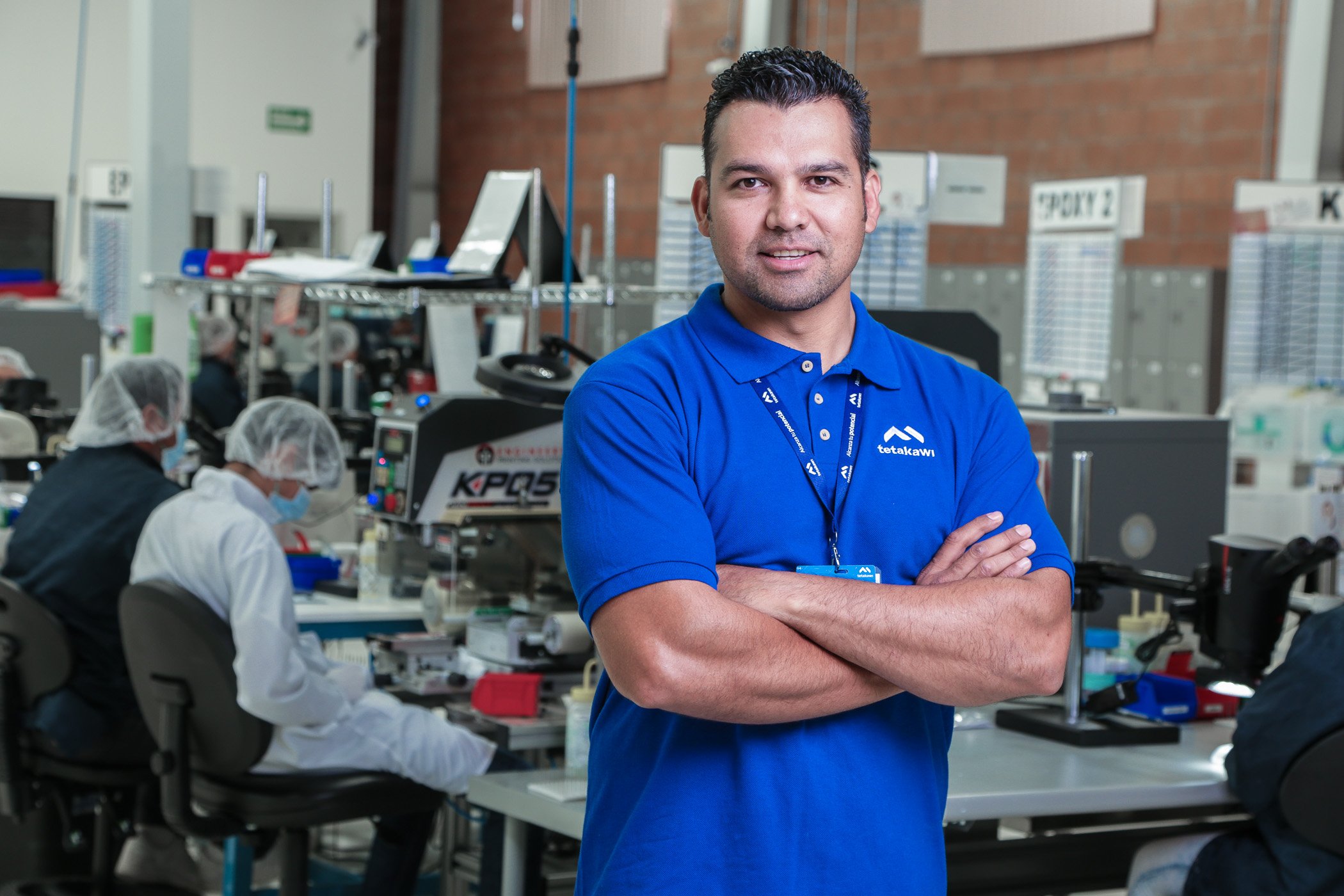 Let's start at the beginning – what is a shelter company in Mexico? Defined simply, a shelter company is a service provider that allows a foreign company to conduct business in Mexico under a specific set of guidelines. Under Mexico's shelter service program, the shelter company manages the administrative and legal tasks related to the business, while the foreign company focuses on its core business: manufacturing.
Shelter manufacturing and shelter services in Mexico have been well-established for years through the "maquiladora" program in Mexico. When foreign manufacturers set up a maquiladora (the Mexican term for a foreign-run manufacturing facility) through the IMMEX shelter program, they avoid much of the red tape generally associated with starting a Mexican company.
You can learn more about maquiladoras and the history of the maquiladora program in Mexico here.
More specifically, the shelter company serves as the legal entity and employer of record in Mexico for all compliance-related concerns. Companies who choose to operate in Mexico with the help of a shelter services provider are exempt from permanent establishment in Mexico and can get immediate access to IMMEX, IVA, and OEA Certifications. Additionally, the shelter company maintains relationships with local business partners, such as labor unions, suppliers, customs departments, and government entities, among others.
Common functions handled by a shelter services provider
What services does a shelter company provide? Typically, companies offering shelter services in Mexico manage all administrative functions critical to the business's overall success but not core to the specific manufacturing operation. Some of the services commonly provided by a shelter company include handling of:
Human resources and recruiting

Employee payroll and benefits administration

Customs management and import/export administration

Tax and fiscal compliance issues

Environmental and occupational health and safety

Purchasing negotiations and vendor relationships

Facilities management and real estate
Depending on the manufacturer's needs, a shelter services provider may also handle several other functions like training and project management. Overall, the shelter services provider's role is to reduce the administrative burden and allow the foreign company to focus on areas of competitive advantage: engineering excellence, improvements to the production process, and quality control.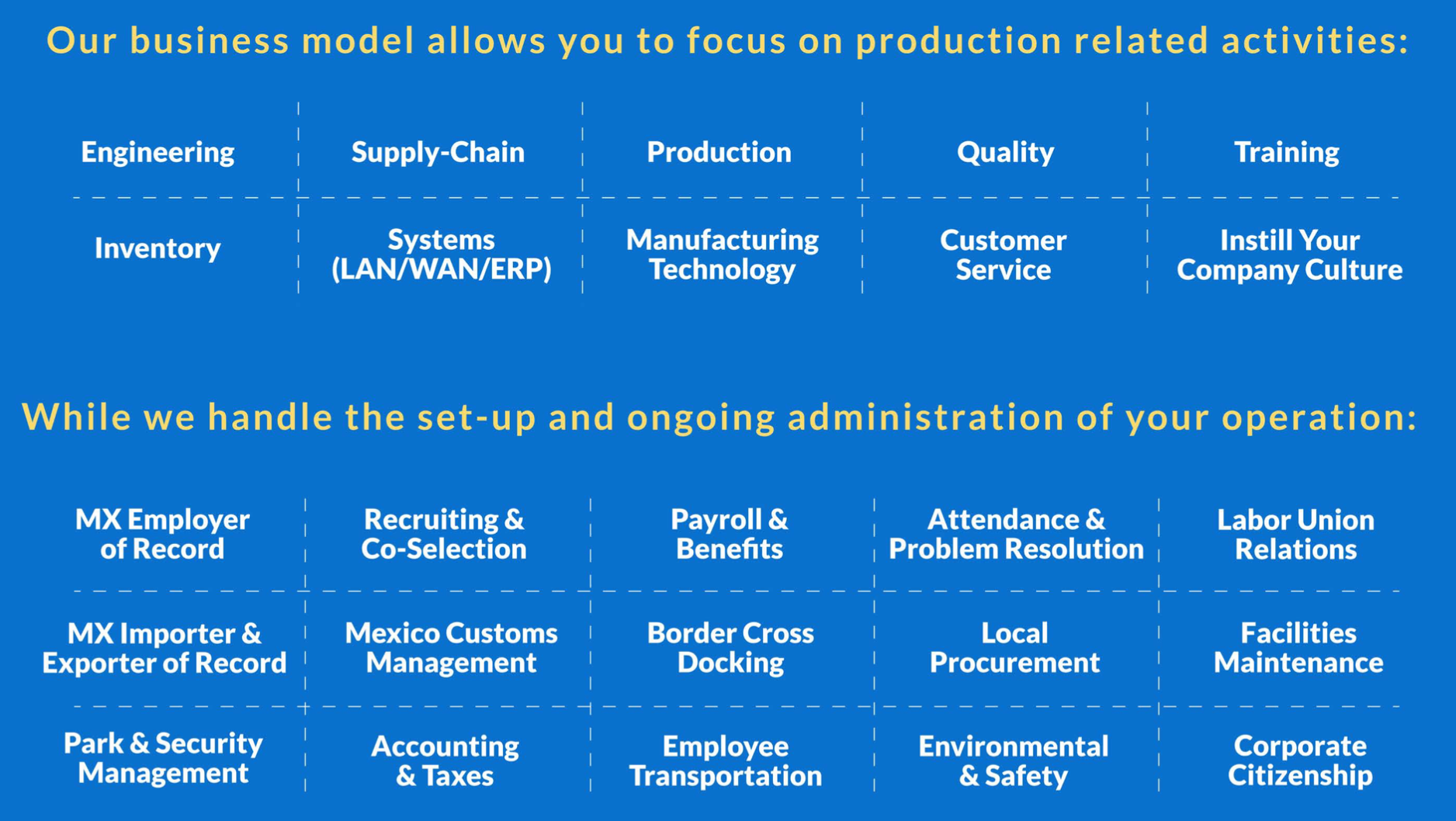 Understanding the shelter manufacturing model (and other ways to manufacture in Mexico)
A company's strategy for entry into Mexico is dependent on many factors, including budget, capability, logistics, market, and management preferences. There are many ways to begin, whether a company chooses to go at it alone or seek various levels of help with the manufacturing process.
Typically, foreign companies moving manufacturing to Mexico (or setting up a new operation) do so under one of five conventional entry models: standalone, contract, merger/acquisition, joint venture, or shelter. Each model has advantages and disadvantages and should be carefully considered before a final entry strategy is chosen. To learn more about these different entry modes, listen to our podcast, where we discuss factors to weigh in choosing to most appropriate entrance strategy for expanding into Mexico:
The Five Entry Models for Manufacturing in Mexico:
Model

Definition

Advantages

Disadvantages

The foreign company operates through a "shelter" legal partnership.

Full ownership and control over manufacturing process
Ability to outsource administrative tasks
Government-supported programs for tax and legal incentives
Drastically reduced learning curve
You can get started in as little as 30 days.
Can include IMMEX, IVA and OEA certifications

Can be challenging to determine which partner to work with, as many have overlapping services

Standalone / Greenfield

Formation of a standalone entity in Mexico by the foreign company.

Independence from third parties
Total control of all operations, from administrative to execution

Must handle all functions and build teams from scratch
Formation of a standalone entity can be complicated for newcomers
Significant upfront investment
Potential culture and language barriers

Contract

Contract agreement between the foreign company and a Mexican manufacturer for fee-based production.

Low maintenance and hands-off; the contracted company is responsible for all aspects of production

Minimal control over the process, quality, and other factors
Potentially costly compared to other models; the contractor determines the fee
Intellectual property risks and sharing of potentially sensitive company data

Merger/ Acquisition

The merger of a foreign company and an established Mexican manufacturer (or the acquisition of one outright).

Potential to drastically flatten the manufacturing learning curve
Ownership and control of production

Can be extremely costly given manufacturer's quality
Possibility of inheriting suboptimal ingrained workplace culture and leadership practices

Joint Venture

Equal partnership between a Mexican manufacturer and a foreign company.

Each partner can contribute unique strengths
Beneficial for captive markets in which the Mexican manufacturer is experienced

Requires more upfront investment than some models
Reliance on the partnership to achieve the goal; may not work well if company leadership, practices, or other factors are not complimentary
How to Choose Between Expanding Into Mexico Alone or Entering With A Partner
As mentioned previously, choosing an entry strategy depends on many factors. Often, cost-related concerns are at the top of the list. The decision to use shelter services in Mexico or establish a standalone entity commonly involves comparing the costs associated with each method.
When evaluating the shelter model of entry, companies often ask, "Does the shelter company's fee exceed the standalone costs to carry out the same services?" This analysis is not always easy. Though the Mexico shelter company fee may be transparent, the standalone cost is dependent on what will be handled in-house and what will be delegated to an outside provider local to Mexico. If handled in-house (e.g., human resources, purchasing, or procurement), what staffing levels are needed, and what does compensation look like for that staff? If outsourced (e.g., legal, accounting, or regulatory compliance), what will the shelter fee structure look like?
For large manufacturing facilities with an anticipated headcount of 750 employees or more, a standalone manufacturing operation in Mexico is not uncommon. With the assistance of Mexican legal counsel, these companies can often create a Mexican corporate subsidiary. Accounting functions and financial reporting can be handled by an external firm or an in-house team.
However, for these manufacturers, and especially for foreign manufacturing companies that operate on a smaller scale, it is tough to duplicate the level of expertise offered by a shelter company for every required function.
The shelter service model is the easiest way to manufacture in Mexico
Of the five conventional entry models for manufacturing in Mexico, the easiest to implement for most companies is the shelter manufacturing model. As opposed to undergoing the process of establishing a wholly-owned subsidiary, purchasing a Mexican company, or relying on a partner (either as a joint venture or in a contract agreement), using shelter services in Mexico allows total manufacturing control that is unburdened by the headaches of administrative and legal maintenance.
As the legal entity acting on the foreign company's behalf, the shelter service provider drastically reduces the administrative load and serves as the liaison between the ownership company and the various regulatory bodies in Mexico for tax, trade, and labor. The shelter service provider also acts as a knowledge repository, which helps the foreign company understand the many implications and obligations of running a manufacturing operation in Mexico, including:
Payment of corporate taxes (including income tax, VAT, and payroll taxes)

Compliance with labor and employment laws

Understanding of international trade laws, import/export regulations, and customs practices

Understanding how transactions work in Mexico

Properly handling shareholder liability, profits, and losses

Understanding immigration laws

Compliance with other regulatory requirements that apply to the company's business activity
Because the shelter provider acts on the company's behalf, many of the risks of forming a company and legal entity in Mexico are dramatically reduced. This allows the foreign company to focus on its competitive advantage – manufacturing excellence – with less worry.
The top five advantages of shelter services in Mexico
When starting a business in Mexico as a foreigner, the knowledge gap is often vast, and the learning curve is steep. Shelter service providers help navigate issues that are unique to the country – such as IMMEX registration and customs compliance – among many other benefits.
The primary advantages of working with a shelter company include:
Fast start-up.

Working with a shelter services provider can eliminate many common start-up hurdles. For example, your provider already has an

IMMEX

and IVA certification. Under the shelter model, the foreign company enters the country as a division of the shelter company. This can radically reduce the time spent waiting for permits, and the resulting cash-flow implications are far less than starting from scratch.

Lower costs.

The Mexican government views the shelter model very favorably, given its ability to facilitate foreign investment. Companies operating under the shelter model are considered beneficial entities and are, therefore, awarded various income, consumption, and

import/export tax incentives

. Additionally, because shelter companies provide the same services to a range of manufacturers, the resulting economies of scale allow for reduced cost of service that is passed on to their clients.

Easily-managed labor.

Companies providing shelter services in Mexico have detailed insight into a vast array of local labor markets. This access makes recruiting candidates for specific industries and functions much more manageable. Service providers are also exceptionally skilled in recruiting for highly-demanded technical positions, niche skillsets, and experienced/mid-level roles.

More flexibility and scalability.

As a company grows and ships more products, it increases staffing – and by extension, cost – for both production and non-core roles. For example, a growing company perhaps needs to contract additional human resources positions, accounting help, procurement staff, or customs paper processing clerks. Companies using shelter services in Mexico may find this cost absorbed by their provider.

Instant access to expertise.

As soon as a manufacturer signs a contract with a shelter company in Mexico, that manufacturer has immediate access to an experienced team of professionals. Accurate local data, know-how, and extensive relationships are, therefore, turnkey.
Beyond these advantages, providers of shelter services in Mexico are experts in other local affairs and more efficiently manage changing needs for warehouse storage space, production square footage, and other types of real estate.
How to choose a provider for Mexico shelter services
Beyond the overall benefits of using shelter services in Mexico, there are advantages to choosing one provider over another. The services required will be highly dependent on the company's needs, so it is vital to have a good understanding of what is uniquely essential to the operation when selecting a provider.
Understanding the Types of Shelter Services Companies in Mexico
Depending on the level of direct oversight desired for specific functions, there are six types of providers with varying degrees of service.
Manufacturing Communities that provide full-service shelter services, in dedicated industrial parks. By setting up a factory in a Manufacturing Community, companies are able to get better customer service and take advantage of economies of scale and amenities such as medical centers and recreational facilities. Manufacturing Communities are the quickest and most risk-averse way to

manufacture in Mexico

.

Full-service offerings only, without owned real estate (but may partner with local agencies).

Unlike manufacturing communities, full shelter services providers offer nearly everything – but not real estate. However, many of these companies partner with local landlords to support these needs.

Start-up shelter companies who are there for a pre-determined period at the beginning only.

These providers are solely focused on the initial phase of getting up and running. At an agreed-upon time, the start-up company then steps aside, and the manufacturer assumes all cost, risk, and responsibility associated with continued operation.

Contract manufacturers who may offer value-added services.

These providers offer specific contracts to dedicate workers to a particular project, and may also offer other specialized services as needed.

Real estate companies who may provide value-added services.

While the general idea for these providers is similar to full-service providers, real estate companies have different priorities. These companies are primarily interested in the rental and sale of Mexican industrial real estate. They often do not make the same investments in administrative infrastructure compared to other service provider types. As a result, their services may be less robust

"Cafeteria-style" providers that offer custom offerings from a small list of specific or niche services.

There are a few companies that allow manufacturers to choose from a menu of shelter service offerings. This can sometimes be beneficial for companies with very specific service requests.
Questions to Ask A Mexico Shelter Company
Given that there are many types of providers offering many different services, companies looking to manufacture in Mexico must make sure that they are making "apples to apples" comparisons when selecting a provider. As every business professional knows, you get what you pay for. With regard to shelter service fee structures, it is particularly important to be clear on what services are provided for those fees.
Asking the right questions upfront can ensure that you get the right price, receive excellent service, and undertake an acceptable level of risk. Becoming well-informed on a potential provider's methods, solutions, and services means you're better able to match with a partner that offers the protection, guidance, and expertise necessary to get your operations running successfully.
A few important questions to ask include:
Service offering.

What services do you offer in specific functional areas such as human resources, import/export, financial, and others?

Licensing concerns.

Does the manufacturer enter the maquiladora industry under the Mexico shelter service provider's business license? Or does the shelter company obtain a separate license for each client? The answer to this question has important tax, labor, customs, and environmental law ramifications that buyers should thoroughly investigate.

Real estate and leasing issues.

What is included in the facility's lease costs? Will the tenant be responsible for real estate taxes, building insurance, maintenance, and other expenses? Or does the Mexico shelter service provider assume all costs associated with the facility?

Fees and other associated costs.

What are the detailed services included in the shelter service provider's fee? Does it cover janitorial and security costs? What about logistics and customs fees? Does the Mexico shelter company bill inclusively for its services, or are other charges over and above the quoted fee billed to the client? Request a full list of all services that will be provided.
For a list of essential questions to ask when choosing a shelter services provider, click here.
What shelter services does Tetakawi offer?
If you choose to partner with us, we provide a range of shelter services in Mexico that offer a cost-effective, low-risk way to set up your manufacturing presence. Whether you want to operate in a full-service manufacturing community, benefit from our start-up services or only need help with specific tasks, we have a solution that's right for your company.
Human Resources:

Attract, manage, and keep the best candidates. From recruiting to termination, we manage the complete employee lifecycle with effective HR services that increase the performance and retention of your employees.

Import & Export:

Reduce border crossing times and keep your goods moving – without the headaches. Our hassle-free import/export services ensure that your goods cross the border in compliance and with the lowest possible cost.

Regulatory & Legal Compliance:

From financial reporting and entity formation, to management of environmental and occupational health and safety, we liaise between your operation in Mexico and government bodies to ensure 100% compliance.

Local Procurement:

Get the best value out of your budget. We are experts in purchasing and can help reduce consumable, MRO, packing supply, and other indirect item and service costs.

Manufacturing Communities:

More than just an industrial park, our manufacturing communities in locations across Mexico combine Class A industrial real estate, on-site support services, and a shelter legal framework for a turnkey manufacturing solution.
Choosing to work with Tetakawi means that you have the freedom from administrative distraction – so your team can focus on producing the right products at the right time and at the lowest possible cost.
Where to go for more information on shelter services in Mexico
We're here to help you succeed! Whether you have questions about the different modes of entry, are wondering what the costs of starting an operation could look like for your company, or are hoping to learn more about the services shelter companies in Mexico provide, we can get your questions answered. To learn more about how to get started with shelter services in Mexico, or explore our service offerings, get in touch with a Tetakawi expert here.
Subscribe
Sign up and stay informed with tips, updates, and best practices for manufacturing in Mexico.