IMMEX in Mexico: Your Top Questions Answered
The IMMEX Program is an incentive program that provides foreign manufacturing companies with an easy and cost-effective way to operate in Mexico. While the program has been around for several decades, its evolution over that time has created some confusion around key concepts. If you find yourself hard-pressed to explain the difference between an IMMEX company and a maquiladora, this article can help.
Here, we will provide a brief history behind the IMMEX program and define its key elements. We'll also outline the various ways you can operate as an IMMEX company in Mexico and the benefits it can provide your firm.
What is the IMMEX program?
The IMMEX program allows registered companies to temporarily import goods that will be used in an industrial process or service and subsequently exported or used to provide export services. These temporarily imported goods are allowed into Mexico free of general import tax, VAT, or certain countervailing duties. To qualify for this tax exemption, all of the imported goods must be used to manufacture or repair products that will then be exported or transferred to another IMMEX company. Depending on the nature of the finished product, goods must be exported within six to 12 months.
There are three categories of goods allowed entry through the IMMEX program:
Raw materials, parts, and components to be fully processed into exported goods; materials used during the production process; and the exported goods' containers, packaging, and labeling materials.

Shipping containers and boxes.

Machinery, equipment, tools, instruments, molds, and parts used for the production processes, including quality control, research, training, and related production processes and company administration.
What is the difference between IMMEX and maquiladora?
IMMEX stands for the Spanish translation of Maquiladora, Manufacturing and Export Services Industry. That's because the IMMEX program is the result of a government decision in 2006 to combine two separate programs:
The Development and Operation of the Maquila Export Industry (the maquiladora program)

Temporary Import Programs to Produce Export Goods (PITEX)
A maquiladora is a name for a factory in Mexico that is owned and run by a foreign company that manufactures products in Mexico for export to other countries under IMMEX.
What are the benefits of an offshore factory in Mexico?
The IMMEX program was designed to help encourage foreign direct investment. As foreign manufacturing companies explored various offshoring locations, Mexico wanted to develop a program that incentivized and facilitated exports. Offshoring allows manufacturers to better compete in their industries through access to skilled labor in countries with lower living costs.
While China has been a leading source of offshore manufacturing for decades, that has changed in recent years. When comparing Mexico vs. China manufacturing, many companies find that wage inflation in China has reduced any cost advantages. In addition, global supply chain challenges have pushed more manufacturers to consider a nearshoring approach that balances low labor and real estate costs with reduced shipping times. This positions Mexico as a clear choice for U.S. and Canadian companies.
Yet companies around the globe also benefit from a location in Mexico, whether or not they're aiming to sell products in the U.S. market. Mexico's long manufacturing history has created a highly skilled labor force that can fill direct labor and managerial roles. Add to that federal and state tax, location incentives, and free trade agreements that support trade with more than 50 countries, and it's clear to see the benefits of a factory in Mexico.
How have close ties with the United States helped Mexico's economy?
According to Mexico's Secretariat of Economy, companies supported by the IMMEX program represent 85% of Mexico's manufactured exports. That's a big deal for a country that, in 2020, ranked number 9 in the world for total exports for a total of $427 billion. The United States was the number one recipient of those exports for a whopping $326 billion.
While proximity to the world's largest consumer has significantly impacted Mexico's economy – the 15th largest economy in the world, per OEC – IMMEX is largely responsible for this strong trade. In fact, the early maquiladora program was first launched in 1965 as the Mexican government's solution for alleviating unemployment along the northern border. The maquiladora program enticed U.S. companies to manufacture in Mexico with tax and duty-free benefits and easy access to affordable labor.
The program met that goal but truly exploded in growth with the signing of the North American Free Trade Agreement (NAFTA) in 1994. Under NAFTA, trade barriers were reduced between Mexico and Canada, and many limitations placed upon maquiladoras were removed. The result has been a tremendous influx of spending and jobs in Mexico and growth in the infrastructure and training facilities required to support this work. Many benefits have since been expanded under the USMCA agreement.
How do you become a maquiladora?
To launch a maquiladora, a company first needs IMMEX registration. This is available to companies that can prove annual sales abroad of at least USD 500,000, or that invoice exports accounting for at least 10% of the company's total invoices. If this description fits your company, you may apply for IMMEX registration through an office of the Secretariat of Economy in the state where you will be operating. For a new program, there is an application to fill out, and it must be accompanied by a number of pieces of supporting information including an active Federal Taxpayer Registration. Supporting documents vary depending on the type of IMMEX company you launch.
It is important to note that IMMEX companies must submit annual reports with far more detailed requirements. It can take a significant amount of time to fill out all the required paperwork. Simply securing IMMEX registration and appropriate permits to launch can take from six to 12 months—or more. Because of this reason, many companies, that are looking for a quicker launch into Mexico, choose to do so in partnership with a shelter service provider.
What is an IMMEX company?
An IMMEX company is one that is registered through Mexico's Department of Economy under the IMMEX program. However, there are five distinct types of IMMEX registration:
Holding Company IMMEX: This legal entity holds IMMEX registration that encompasses its manufacturing operation as well as one or more subsidiaries.
Industrial IMMEX: This direct form of registration is granted to manufacturers importing goods for use in an industrial process with the aim of producing goods for export.
Services IMMEX: This company performs services that support the export of relevant goods under IMMEX registration. This includes legal entities, software developers, recyclers, and certain other service companies.
Shelter IMMEX: This Mexican company serves as a legal entity that assumes all legal risk and liability for manufacturers operating beneath its IMMEX registration.
IMMEX Outsourcing Program or Third-Party: If a certified company doesn't own the facilities necessary to perform its production processes, it can manufacture through a third party that it registers in its program.
Which industries do most maquiladoras serve?
The top export out of Mexico today is vehicles. The automotive manufacturing industry may be the largest industry served by maquiladoras today. In 2020 alone, the country produced nearly 4 million vehicles, making it the sixth-largest auto production country in the world. Ninety percent of Mexico's massive vehicle production is dedicated to export, with 79% of those cars going to the United States.
However, Mexico's long history in automotive manufacturing has created a strong foundation for a number of related segments. It's the second largest category of export is computers, hinting at the country's massive electronics production sector.
Other common manufacturing sectors in which maquiladoras operate include:
Aerospace

Medical device

Appliances

HVAC

Furniture

Plastics

Textiles
Where are most manufacturing maquiladoras located in Mexico?
Many maquiladoras are located near the northern and central portions of Mexico. Factories in these regions simplify the logistics of exporting to the United States. However, some industrial clusters have stretched further south into Mexico's Bajío region due to the higher availability of labor at somewhat more competitive rates.
Each of these regions offers unique advantages and is home to its own industrial clusters. As a result, it's important to research specific sites prior to making a move.
Do you need a partner in Mexican to run a maquiladora?
A manufacturer does not need a Mexico-based partner to benefit from the IMMEX program. However, many companies choose to operate a maquiladora under the umbrella of a shelter services company. This offering is one more way that Mexico simplifies the process of launching a manufacturing operation.
A shelter service company is a service provider that allows a foreign company to conduct its business in Mexico under the Mexico-based company's IMMEX registration. Through this arrangement, the IMMEX company serves as the legal entity in Mexico and assumes all liability. The shelter company also manages the legal and administrative tasks related to the business. The foreign company retains complete control over manufacturing.
Experienced shelter companies are able to easily navigate the red tape required to get manufacturers up and running fast. Foreign companies are often able to select the amount of support they need.
If you're ready to take the next step as an IMMEX company, Tetakawi can help. Reach out to discuss your options today.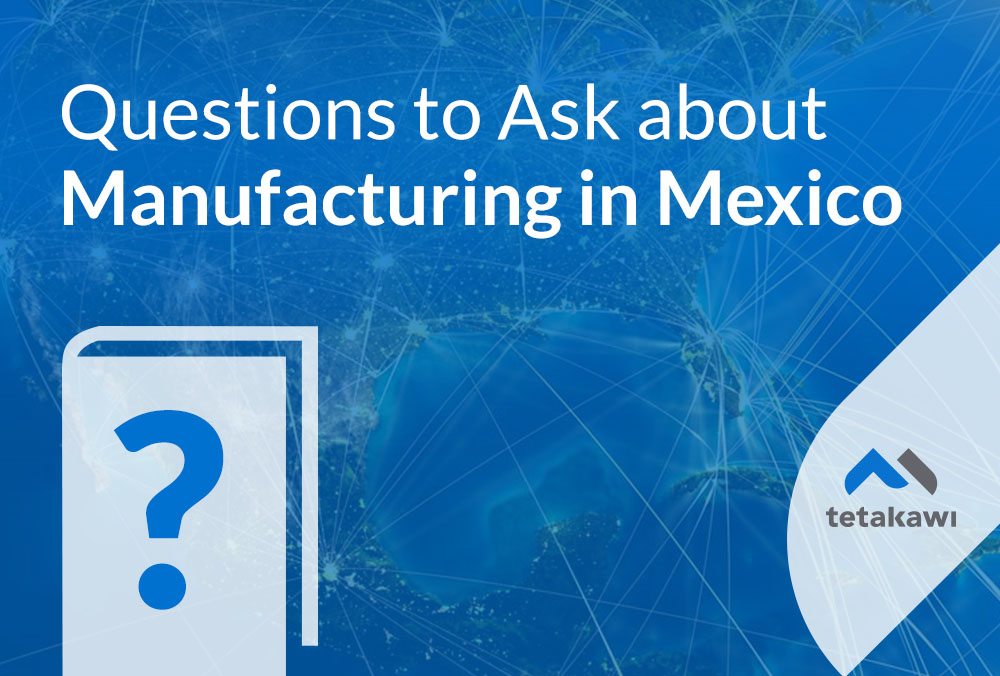 START YOUR JOURNEY INTO MEXICO TODAY!
50+ Questions to ask before expanding into Mexico
Thinking about expanding into Mexico? Step 1 of your due diligence process is answering all of these questions. Over the last 33 years, thousands of companies have used this guide to accelerate their expansion into Mexico.