Which Car Brands Are Made in Mexico
Each year there are approximately 3 million cars made in Mexico. Yet few of these vehicles come from Mexico Headquartered OEMs. In fact, foreign car manufacturing companies make up a significant portion of the roughly $30 billion USD in foreign direct investment that flows into Mexico each year. If you're wondering what car brands are made in Mexico, the answer is quite a few.
Today, Mexico is the sixth largest car manufacturing country in the world. Established automakers with car factories in Mexico include Audi, BMW, Fiat Chrysler, Ford, General Motors, Honda, Kia, Mazda, Nissan, Toyota, and Volkswagen.
In this article, we will highlight the cars made in Mexico; if you are a Tier 1, Tier 2, or even Tier 3 automotive parts supplier, this insight will help you make the right decisions to position your company to support Mexico's automotive industry.
Audi
The Audi Q5 is the only car that Germany-based Audi produces entirely outside of Europe. The company's plant in San José Chiapa, Puebla, produces more than 124,000 vehicles each year. Audi vehicles made in Mexico include the Q5, SQ5, and Q5 TFSI premium hybrid SUVs. The company calls its car factory in Puebla its "most modern plant" in America due to its resource efficiency and innovative manufacturing processes. The plant uses offsite solar energy for an 80% reduction in its carbon footprint. It is also home to one of the most automated production lines in the world.
BMW
Germany-based BMW produces its 3 Series sedan and 2 Series coupe at its car factory in San Luis Potosí. The manufacturing facility has the capacity to produce 175,000 vehicles each year. In April 2022, the company reported that it would begin exclusive production of the second generation M2, the best-selling model in the BMW M range, at the San Luis Potosí plant by the end of 2022.
Fiat (FCA)
Fiat Chrysler, now a part of Amsterdam-based Stellantis, assembles the Jeep Compass at its 1.6 million-square-foot car factory in Toluca. Since the plant opened in 1968, the company has produced the Chrysler PT Cruiser, the Fiat 500, and the Fiat Freemont, its version of the Dodge Journey. Production of the Jeep Compass began in 2017.
Ford
U.S.-based Ford Motor Co. has a long history of vehicle production in Mexico. Its Hermosillo stamping and assembly plant opened as a joint venture with Mazda in 1986 and has produced several iconic vehicles since that time. Ford cars made in Mexico include:
Mercury Tracer (1988-1999)

Mazda 323 (1988-1990)

Ford Escort (1988-2002)

Mercury Milan (2006-2011_

Lincoln Zephyr (2006)

Lincoln MKZ (2007-2020)

Fusion (2006-2020)

Bronco Sport (2020-present)

Maverick (2021-present)
General Motors
This U.S.-based car manufacturer has invested heavily in its four car factories in Mexico and is preparing to do so again. In March 2022, the company announced that it would be investing millions in its assembly plants to support its conversion to producing fully electric vehicles.
GM cars made in Mexico include:
The

Chevrolet Silverado

, Cheyenne (Silverado in LTZ and High Country trim levels for Mexico), and the

GMC Sierra made in

Silao,

The Chevy Equinox and GMC Terrain are made in San Luis Potosi.
The

Chevrolet Cruze

,

Chevrolet Sonic

, and

Chevrolet Blazer and

newer (fifth generation, C1 platform) are made in Ramos Arizpe, in the metro-Saltillo, Coahuila, area.
A fourth plant in Toluca focuses on propulsion system assembly and aluminum component fabrication.
Honda
This Japan-based automotive manufacturer has positioned its plant in Celaya, Guanajuato, as its center of small car production in the Americas. The company manufacturers its HR-V crossover SUV and Fit hatchback at this plant. From its El Salto, Jalisco, plant, Honda manufactures the CR-V midsize SUV.
Kia
In 2016, South Korea-based Kia entered Mexico with a production location in Pesqueria, near Monterrey, Nuevo Leon. Since then, the KIA Mexico plant has manufactured the Kia Forte, Kia Rio, and Hyundai Accent. As of September 2021, the assembly plant had exported more than 1 million vehicles.
Mazda
Following the Ford joint venture noted above, Japan-based Mazda launched a car manufacturing factory in Salamanca, Guanajuato, Mexico, in 2014 to produce the Mazda2 hatchback and sedan; later, Mazda3 models and Mazda2-based Toyota Yaris. That facility was launched as part of a joint venture with Sumitomo Corp. in 2011 until Mazda bought full ownership in 2021. Today, Mazda makes the compact CX-30 crossover in Salamanca.
CarScoops reports that Salamanca was Mazda's first production facility outside Japan. It was selected due to Mexico's free trade agreements with 45 countries and its central location from which to export to the Americas and Europe.
Nissan
Japan-based Nissan Motor Co. operates three manufacturing facilities in Mexico. Its Cuernavaca facility south of Mexico City produces small cars and light commercial and pickup truck models. Two more facilities in Aguascalientes have small cars for the domestic, U.S., and Latin American markets. Nissan manufactures its Versa subcompact, Sentra sedan, NP300 pick-up, Kicks SUV, and March hatchback in Mexico.
Toyota
Japan-based Toyota has manufactured the Tacoma midsize pick-up truck in Tijuana, Baja California, since 2002, in addition to its joint venture with Mazda to produce Yaris at Mazda's plant in Salamanca. In 2020, the car manufacturer added to its Tacoma capacity with production at a new $700 million assembly plant in Apaseo el Grande, Guanajuato. The new facility has an annual output capacity of 100,000 units.
Volkswagen
Germany-based Volkswagen (VW) has been manufacturing cars in Puebla, Mexico, since 1967. This plant just south of Mexico City is one of the longest-running car factories in Mexico.
The Puebla plant is the largest car manufacturing facility in Mexico and one of VW's largest vehicle plants in the world. All production processes, from the stamping of body parts to the production of axles and catalytic converters, occur here.
Its cars made in Mexico include the iconic VW Beetle, made exclusively in Puebla from 1997 to 2019. More than 1,7 million units were made in that time. Today, the company can manufacture nearly 300,000 units, covering the Jetta compact car, Taos SUV, and the extended version of its Tiguan SUV.
Find the right location for you
Car component suppliers find Mexico an excellent location to strengthen their ties with some of the biggest automotive OEMs in the world. With the right location and approach to the market, these companies can also lower their production costs in the process.
To determine the right approach for your company, contact Tetakawi today.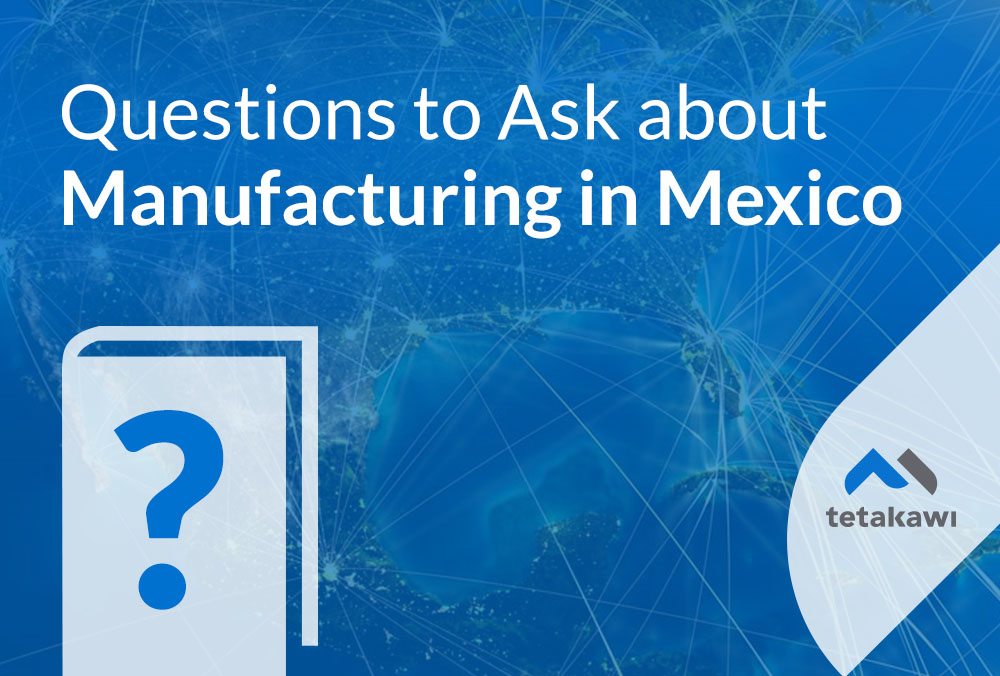 START YOUR JOURNEY INTO MEXICO TODAY!
50+ Questions to ask before expanding into Mexico
Thinking about expanding into Mexico? Step 1 of your due diligence process is answering all of these questions. Over the last 33 years, thousands of companies have used this guide to accelerate their expansion into Mexico.