The Mexican Automotive Industry's Long History
Supplier Network, Federal Support Attracts Car Manufacturers to Mexico
The history of the automotive industry in Mexico dates back to 1925 when Ford Motor Co. established an assembly line in the country. Ford remains the longest-operating automotive industry manufacturer in the country. Ten years later, in 1935, General Motors entered the country. At that time, GM was the leading vehicle producer in the world. Today, it's Mexico's largest automotive producer. In 1937, Chrysler launched its operations, cementing Mexico's place as a low-cost production option for U.S.-based automotive manufacturers.
From those beginnings, the automotive manufacturing industry has grown to become the country's largest manufacturing sector, employing more than one million people. Mexico is the sixth-largest manufacturer of passenger and cargo vehicles globally, the fifth-largest producer of auto parts worldwide, and the largest tractor truck exporter worldwide. The vast majority of this vehicle production—90%—is ultimately exported, with 79% going to the United States.
This massive growth did not happen overnight. Mexico's century-plus of automaking experience has held many lessons in the value of strengthening international partnerships.
The early years of automotive industry growth in Mexico
Automobiles first arrived in Mexico City in 1902. From 136 cars in 1902, automobile traffic increased to 800 vehicles on the road by 1906. This growth led President Porfirio Díaz to form the first Mexican Highway Code. Shortly after the Mexican Revolution ended in 1920, the automotive industry in Mexico began to flourish. In 1921 Buick became the nation's first trademark to be legitimately established in Mexico.
While the Detroit Big Three—Ford, GM, and Chrysler—led the move into Mexico, carmakers from around the world did not follow suit until the 1950s and 1960s.
In 1960, Toyota Motor began producing its Land Cruiser and other vehicles through a partnership with a local company (it later withdrew in 1964). Nissan began producing Datsun's at a new factory in Mexico, its first manufacturing center outside of Japan, in 1961. Volkswagen established its Mexico headquarters in Puebla in 1964, and its iconic Beetle rolled off its production line there in 1967. Throughout this decade, the country's manufacturing sector expanded 7% annually.
1960s-1970s: New regulations and economic uncertainty
Many car manufacturers were operating in Mexico when, in 1962, Mexico issued an automotive decree that banned the import of vehicles, engines, and many other major automotive parts. The goal was to cultivate a national car manufacturing sector to promote job creation and technological advances. The new policy set a 60% requirement for local value-added materials on vehicles assembled in Mexico and a 40% limit on foreign ownership of auto parts plants. Price controls aimed to induce higher productivity.
Companies that would not conform to these government directives left the country, including Mercedes Benz, FIAT, Citroën, Peugeot, and Volvo. The American Big Three (General Motors, Ford, and Chrysler) remained, along with American Motors, Renault, Volkswagen, and Borgward.
The 1960s also saw the launch of the country's maquiladora program. Maquiladoras in Mexico were initially developed to encourage foreign investment and boost domestic employment rates. However, the program would not see its full potential for several decades.
In 1972, the government laid out a new set of regulations to boost trade performance for Mexico's automotive industry. These changes allowed for lower domestic content in vehicles to be exported and mandated that auto companies export an equivalent to 30% of their imports. By 1975, auto industry exports made up less than 16% of the industry's import bill. And so, in 1977, the country began to get serious about becoming internationally competitive. To meet new parts requirements, many automotive companies had to modernize their plants.
1980s to 1990s: Growth of Mexico's economy
Despite facing an economic slump in the 1980s, policies set in place began to encourage additional foreign investment in the automotive sector. Among the most notable investments was the launch of a joint Ford and Mazda plant in 1986 in Hermosillo, Sonora. Although parts were originally shipped from Japan, the emergence of local suppliers drove to a steady increase in local content. To allow for rapid production shifts between different models of sedans, Ford invested more than a billion dollars in a nearby supplier park, which significantly increased the plant's productivity to a capacity of 300,000 units a year.
This strengthening supplier network wasn't the only incentive spurring dramatic growth. Between 1989 and 1993, Mexico began to pursue new policies to deregulate the automotive industry in Mexico and make it more attractive for foreign investment. Among these reforms were changes to the maquiladora program that allowed maquiladoras to sell up to 50% of their products to domestic markets in Mexico.
With the passing of the North American Free Trade Agreement (NAFTA) in 1994, Mexico gained greater visibility as a potential manufacturing partner for companies in the U.S. and around the globe. Under NAFTA, maquiladoras could make use of waived Mexican import duties and receive preferential rates on duties for specific products. These benefits made it much easier for the manufacturing industry in Mexico to grow. Two-way trade with the U.S. under NAFTA was a catalyst for major economic growth.
During the late 1990s the growth of Mexico's economy spurred increased car sales in Mexico. Eventually, most of the carmakers that had left the country in the 1960s re-established themselves in the country.
2000s to 2020s: The automotive industry in Mexico today
Annual passenger vehicle sales in Mexico reached one million in 2005 and have continued to climb since then. This growth comes in part from the continuing strengthening of the local supplier change, as well as the establishment of additional incentives for foreign investment.
In 2006, the IMMEX Program (which stands for the Maquiladora, Manufacturing and Export Services Industry) established additional benefits to the existing maquiladora program. It reduced costs and the burdens of moving into Mexico. There are five IMMEX registrations, which are based on the type of product or service exported: Holding Company, Industrial, Services, Shelter, and Outsourcing. By incentivizing manufacturers to export goods, the IMMEX program led to a 99% increase in export trade in just over a decade, from $210 billion in 2005 to $419 billion in 2017.
In 2020, NAFTA was replaced with the passage of the U.S.-Mexico-Canada Agreement. Most notably, USMCA updated the rule of origin requirements, mandating that automakers use 75% North American content, compared to 62.5% under NAFTA.
Mexico's strong network of free trade agreements (FTAs) adds to its appeal as a global export base. According to calculations from the Center for Automotive Research, Mexico's FTAs lead to tariff savings of more than $4,000 per vehicle in exporting a $25,000 vehicle to the E.U. The tariff advantage grows proportionally with vehicle value.
What's in store for the future
Today, Mexico is home to established automakers, including Audi, Baic Group, BMW, FCA Group, Ford, GM, Honda, Kia, Mazda, Mitsubishi, Nissan, Toyota, and Volkswagen. As of 2019, GM has become Mexico's largest automobile producer, surpassing Nissan Motor Co. A strong network of automotive clusters supports these OEMs.
The automotive manufacturing industry in Mexico is today preparing for the evolution of the automotive industry. Ford became the first to manufacture hybrid cars in Mexico, the Ford Fusion sedan and the Lincoln MKZ premium car built in Hermosillo, and is producing its first full-electric vehicle, the Mustang Mach-E, at its Cuautitlan assembly plant in Mexico. However, it's not alone. In 2020, Mexico began to produce nine different 100% electric vehicle models.
"Mexico has enormous potential to make electric cars, it has the required technical abilities and lower costs than other countries," Brais Alvarez, automotive account manager of J.D. Power Mexico, told MexicoNow.
Mexico's long history in automotive manufacturing has pushed the domestic supply chain to strengthen while incentivizing foreign investment. It's become a powerful recipe for high-quality, low-cost vehicle production. Now, with more than 3.9 million cars built in Mexico in 2018, most of them exported for sale around the world, Mexico's reputation as an automobile-building dynamo has been proven.
Becoming a manufacturing powerhouse doesn't happen all at once—and it doesn't happen without the right support. If you're ready to join Mexico's automotive manufacturing industry, contact Tetakawi to learn about the quickest, most cost-effective, and risk-averse way to establish a maquiladora.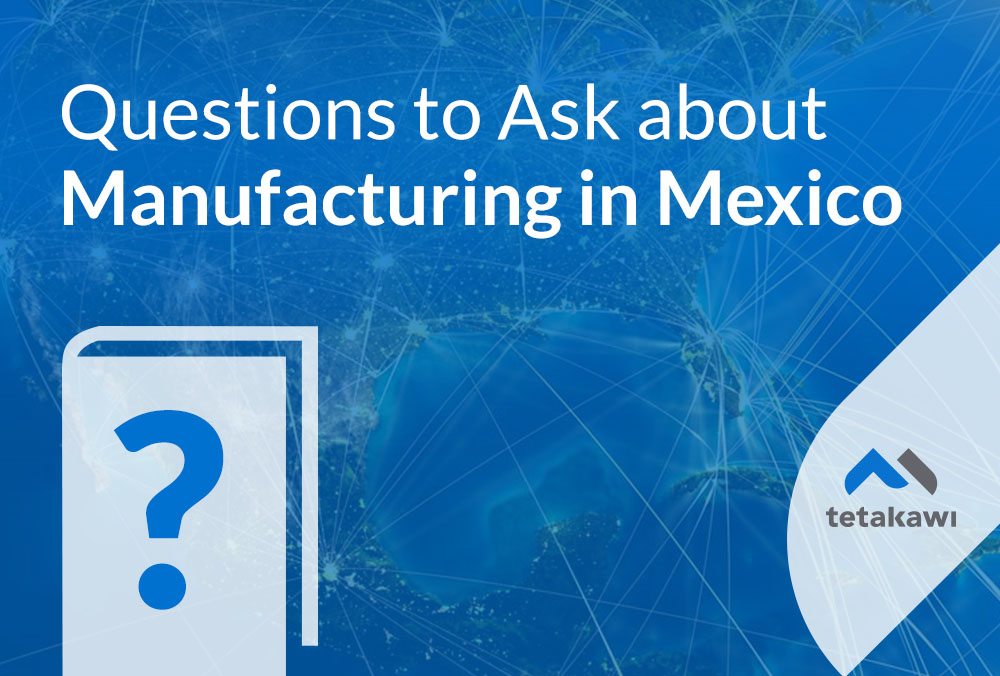 Start your journey into Mexico today!
50+ Questions to ask before expanding into Mexico
Thinking about expanding into Mexico? Step 1 of your due diligence process is answering all of these questions. Over the last 33 years, thousands of companies have used this guide to accelerate their expansion into Mexico.